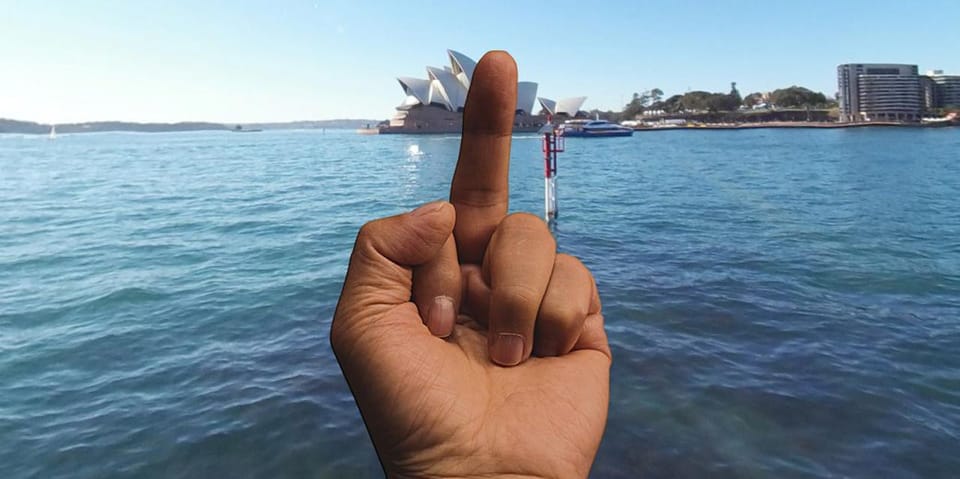 Artist Ai Weiwei is famous for flipping off global landmarks in one of his most notable series, Study of Perspective. Now, in a new online art project from Avant Arte, you can put the visionary's famous middle finger in the foreground of various searchable locations yourself.
Titled "Middle Finger," the platform allows users to superimpose Weiwei's extended, angry arm over a selection of notable landmarks, including the Statue of Liberty, the Eiffel Tower, the Sydney Opera House and Trump Tower, among others. Additionally, the initiative features a slew of renowned artworks by Vincent Van Gogh, Hans Holbein The Younger and Banksy; and for those with more personal agendas, it lets users download a high-resolution cut-out of the artist's middle finger, which can be edited onto any picture.
"We often forget that we have a middle finger," Weiwei said of the project, via Hyperallergic. "Or even if we know we have a middle finger, we misuse it. I think it's good to remember that this part of your body can point to something — an institution, or someone that resembles a power — to let them know, and let yourself know, that you exist."
Alongside the project, Avant Arte will release a limited silkscreen print, Middle Finger in Red, for just 24 hours on March 30. Try out Ai Weiwei's "Middle Finger," here.
Elsewhere, Sony announced the winners of the World Photography Awards 2023.