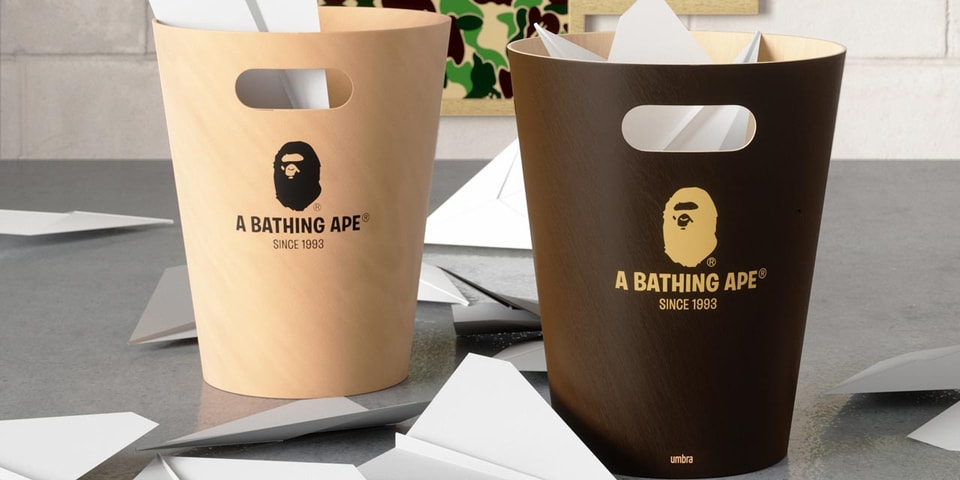 A Bathing Ape (BAPE) has partnered with Canadian design firm Umbra for an exclusive range of sleek, logo-embossed home essentials. Merging quintessential streetwear with original interior decor, the collection's wooden waste cans and circular mirror place the former label's signature monkey iconography in the foreground of the Toronto-based brand's contemporary pieces.
Inside the line, the Woodrow Can features a two-tone layout, combining a natural wood interior with a stained outer finish, which, in Umbra's words, "helps to warm and ground a room." Available in "Espresso," "Natural" and "White" colorways, the container boasts integrated handles, situated just above BAPE's classic motif. The design, which measures nine inches in diameter and 11 inches tall, has a capacity of two gallons.
Meanwhile, the BAPE x Umbra mirror opts for a circular shape, with a silk-screened BAPE decal. Wrapping around the entire 18-inch design, the emblematic seal once again fronts BAPE's ape alongside lettering reading, "Bathing Ape" and "Busy Works."
Those interested in shopping the collection can sign up for a chance to purchase the limited-edition items on Umbra's website through June 28. Winners will be selected on June 30.
Explore the collaboration in the gallery above.
In more design news, this ultra-rare pink diamond is expected to sell for over $35 million USD at auction.