It would seem like Blac Chyna and Tokyo Toni are at odds. The mother, daughter duo has reportedly been on shaky terms for the past two years… Or at least, that's the last time Toni has seen her two grand children, Dream Renťe Kardashian and King Cairo Stevenson.
The 46-year-old also said that her only child refused to give her money for food.
"Fame goes to peoples head"
Source: Instagram @shalanajh
"Fame goes to peoples head but got damnit I just so happen to be on of the b***hes to catch the fade," Toni began in her rant. The mom-of-one went on to say that when she asked Chyna to spare $30 for food, Chyna told her, "I'm broke and I have to take care of my kids."
Speaking of Chyna's kids, Toni alleged that she hasn't seen one-year-old Dream or five-year-old King for "two years in a row."
"I'm going on my second year of not seeing my grands. Yes, they are her children, and I'm not the only person who deals with this s**t. Hollywood is so demon filled it changes people," Toni said. "She raised war against me, her mother, the only b***h breathing that would f**king die for her funky a**."
"I took on 424 million people. Those were the Kardashian's fans. But b***h I'm still here," Toni continued. "The blogs come for my a**. They know you, they don't know me. They know you, you need to call and apologize on your f**king knees."
The Six Flags Incident
Source: Instagram @blacchyna
Whether or not Chyna apologizes to her mother, she may have something to be sorry about. The 29-year-old's name was thrown in some unflattering headlines after she used her baby's stroller as weapon during a fight.
During a trip to Six Flags Magic Mountain, located in Santa Clarita, California, Chyna was spotted getting into a heat altercation with a fellow park guest. After the guest ďtouchedĒ Dream, Chyna threatened the female and proceeded to follow through with the threat.
According to the guest herself though, she ďslapped the dog s**tĒ out of Chyna after the former Rob & Chyna star threatened to ďbeatĒ her up.
TMZ broke the story early April, reporting that Chyna dodged her security detail ďfor a brief moment and grabs onto Dreamís stroller, whipping it around and attempting to attack her provoker with it.Ē Later updates revealed more details, like the identity of the ďprovoker,Ē the fight from different angles and why the fight started.
Chynaís ďprovokerĒ alleges that she was sitting by a rollercoaster when she saw the starís children with their nanny. ďBut mind you, I did not know that these were [Blac Chynaís] kids,Ē she says in a video.
A ďBeautifulĒ Little Girl
Source: Instagram @blacchyna
The women said someone pointed out the boy, King, as Chynaís son, before sharing that her attention was really set on the ďbeautifulĒ little girl.
ďThereís a white lady pushing the baby girl,Ē she continued. ďTheyíre walking straight. Iím sitting down against the fence, and Iím like ĎOh my God, that baby is so beautiful.í Iím like, ĎYour baby is so beautiful,í because Iím thinking the whole time that this is the nannyís baby because sheís pushing the baby and Blac Chyna is no where to be f**king found.Ē
Afterwards the women says the nanny ďwalks the baby all the way to [her],Ē before thanking her for the compliment. ďAnd in my head, Iím thinking, ĎWell, this is the mother giving me permission to touch her child,í which she did. So, I rubbed the lil baby with my finger. I barely rubbed her with my finger, and Iím like, ĎAw, youíre cute.í The nanny smiled, and this b***h walked off.Ē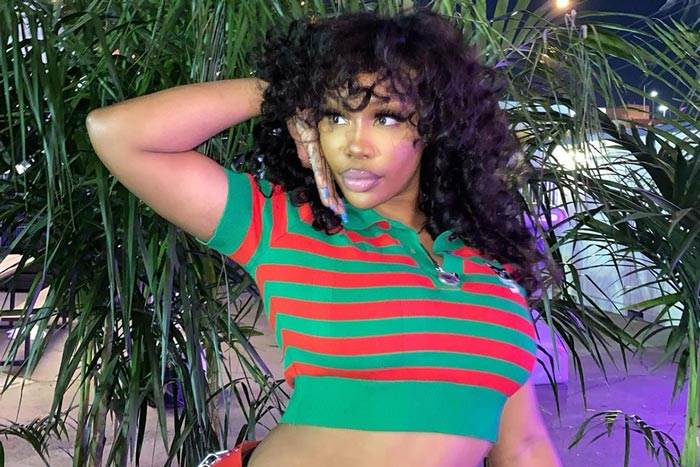 SZA Drops New Song 'ÄėI Hate U'Äô