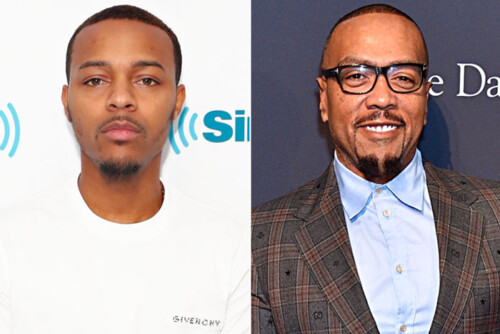 Timbaland threw some shade. Bow Wow barked back.
As you're all familiar with the Verzuz battles on IG Live now, apparently Timbaland didn't think Bow Wow had 20 hits under his belt in order for him to be a contender on the popular Live series. "He mite not have 20 n the bag," he wrote as a comment on a post from The Shade Room.
Zaamnnnnnn.
Dropping the "Lil" from his name years ago, Bow Wow is grown now and can bark back – which he did.
"You been drinking too much Ciroc.. 20? Timbo you betta stop playing w/ me. I can give you 10 before I hit my 3rd album. The Bow Wow era was nothing to play w/ Ima let the people tell you about me tho." He then shared the following post for his fans to see as well:
Yo! @Timbaland said i might not have 20 songs to do a verzuz… i LAUGHED pic.twitter.com/T7NkZiZcyZ

— Bow Wow (@smoss) July 28, 2020
Bow Wow's loyal fan base were quick to jump to his defense, of course! Bow Wow then proceeded to list 20 hits and shared it on Twitter. With all the fan love and support, Timbaland finally responded.
What about: Oh i think they like me. Where the party at remix. Destiny child remix. Ima flirt. Theres more…. 3-6 mafia side to side we past 20 right? https://t.co/U5mGZhAciI

— Bow Wow (@smoss) July 28, 2020
View this post on Instagram

@shadmoss ok let's celebrate this for the culture @verzuztv let's talk young king !!!
© 2020, MariaMyraine. All rights reserved.