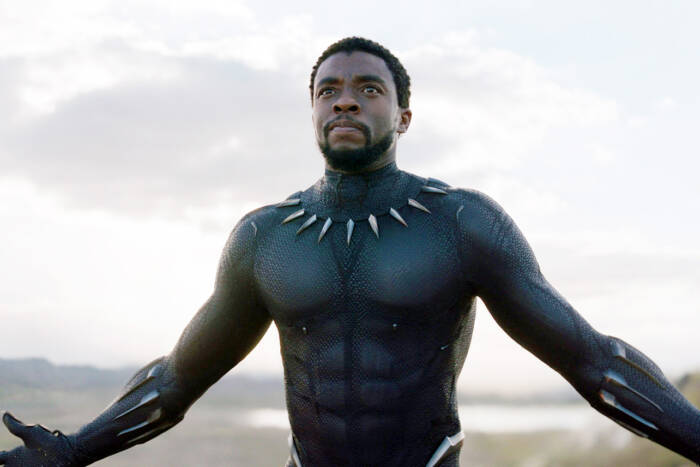 Rest In Peace, Chadwick Boseman.
Wakanda forever, fo'real. Early this morning, the untimely passing of beloved actor, brother, friend, son and idol to so many young Black children, Chadwick Boseman, lost his battle with cancer. For the past four years, unknowingly to the majority of the world, Boseman – whose role as Marvel's Black Panther – was suffering, internally. The fact this man still got up every day to do what he loved, show care and compassion to so many, and still be this beaming light with just one smile, is a testament to who he was as a person.
Nothing short of legendary. An icon. A real life hero.
In 2016, Chadwick was diagnosed with Stage 3 colon cancer which quickly progressed to Stage 4. Who passed away at home with his wife and family, according to an official statement that was released. He passed away at 43 years old. 
"A true fighter, Chadwick persevered through it all, and brought you so many of the films you have come to love so much," the statement said. "From Marshall to Da 5 Bloods, August Wilson's Ma Rainey's Black Bottom and several more, all were filmed during and between countless surgeries and chemotherapy."
pic.twitter.com/aZ2JzDf5ai

— Chadwick Boseman (@chadwickboseman) August 29, 2020
What a gentle gifted SOUL. Showing us all that Greatness in between surgeries and chemo. The courage, the strength, the Power it takes to do that. This is what Dignity looks like. https://t.co/U3OOnJVS42

— Oprah Winfrey (@Oprah) August 29, 2020
THANK YOU @chadwickboseman for all you gave us. We needed it & will always cherish it! A talented & giving artist & brother who will be sorely missed🙏🏿 RIP

— Samuel L. Jackson (@SamuelLJackson) August 29, 2020
Chadwick Boseman brought history to life on the silver screen, from Jackie Robinson, James Brown and Thurgood Marshall.

As Black Panther, he was also a superhero to many.

And despite his 4 year long battle with cancer, he kept fighting and he kept inspiring. He will be missed. pic.twitter.com/f0Tc8ByaXj

— Martin Luther King III (@OfficialMLK3) August 29, 2020
A warrior of light til the very end. A true king. I am without words. May he rise in power. https://t.co/50nfbvZpAq

— kerry washington (@kerrywashington) August 29, 2020
The news of Chadwick passing has devasted us all. Like a true hero he fought his battle to the end and never stopped gifting us his incredible talent.
He was a king in real life and on screen, the world will miss him dearly. RIP #ChadwickBoseman pic.twitter.com/xccofXeu38

— VERSACE (@Versace) August 29, 2020
I'm so shocked and heartbroken about Chadwick. He was such a bright light, such a gifted performer. He brought grace, elegance and power to everything he did. He always seemed to carry our ancestors with him. And now he joins them far too soon.

— John Legend (@johnlegend) August 29, 2020
Wakanda Forever.
🙏🏾🙏🏾🙏🏾

— Russell Wilson (@DangeRussWilson) August 29, 2020
View this post on Instagram

Chadwick came to the White House to work with kids when he was playing Jackie Robinson. You could tell right away that he was blessed. To be young, gifted, and Black; to use that power to give them heroes to look up to; to do it all while in pain – what a use of his years.
View this post on Instagram

Rest in Power King T'Challa. My heart is so heavy right now. Your passing has hit me hard. I will tell my sons about you forever. You were one of the classiest men I have ever met in my life. It was an honor to have shared minutes with you on screen and to have crossed paths with you during press. Though our acquaintance was light you always left a lasting impression because of your energy, poise and gentle manner. May the Universe deliver you to your promise land brother. ~ Que en paz y en poder logres descansar finalmente. Con lo poco que estuviste aquí, dejaste un legado increíble!!!
Our hearts are broken and our thoughts are with Chadwick Boseman's family. Your legacy will live on forever. Rest In Peace. pic.twitter.com/DyibBLoBxz

— Marvel Studios (@MarvelStudios) August 29, 2020
View this post on Instagram

"It was meant to be for Chadwick and me to be connected, for us to be family. But what many don't know is our story began long before his historic turn as Black Panther. During the premiere party for Black Panther, Chadwick reminded me of something. He whispered that when I received my honorary degree from Howard University, his alma mater, he was the student assigned to escort me that day. And here we were, years later as friends and colleagues, enjoying the most glorious night ever! We'd spent weeks prepping, working, sitting next to each other every morning in makeup chairs, preparing for the day together as mother and son. I am honored that we enjoyed that full circle experience. This young man's dedication was awe-inspiring, his smile contagious, his talent unreal. So I pay tribute to a beautiful spirit, a consummate artist, a soulful brother…"thou aren't not dead but flown afar…". All you possessed, Chadwick, you freely gave. Rest now, sweet prince." #WakandaForever
© 2020, MariaMyraine. All rights reserved.