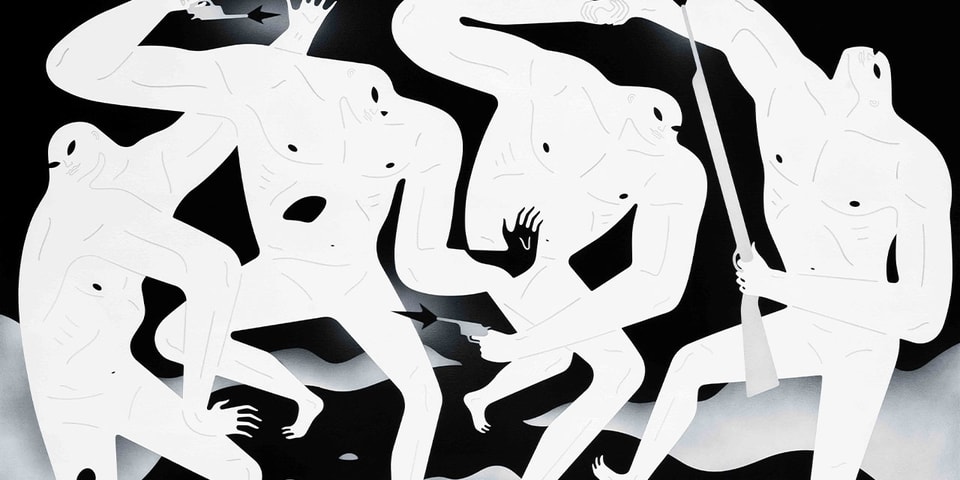 Cleon Peterson's latest exhibition, Cruelty, takes a deep dive into the haunting reflections of societal malaise and violence found in modern times. Presented by Hong Kong-based gallery, Over The Influence, Cruelty aims to captivate audiences through dark visions of modern power dynamics that carry a universal resonance.
A common theme found in Peterson's work is the desire to confront history rather than reshape it. Instead, he addresses aspects like the malaise of society and encourages viewers to face some of the ugliest aspects of past and present realities of human nature. In his latest exhibition, Peterson presents a world that evokes a dark atmospheric ambiance, which comes across with a different intensity than some of his previous works. Expressed through a grayscale palette and the innovative use of sfumato shading, Peterson's paintings possess a newfound depth that blurs the line between reality and dreamscape.
Notably, most of the works also feature firearms, bullet casings, and skulls — with the first of the two not appearing overly frequent in past works and aiding in what can be seen as a nightmarish hallucination.
"If it seems perverse to meld the muscular urgency of a Futurist such as Umberto Boccioni with the abject absurdity of artists like Otto Dix or George Grosz, then it is important to understand that Peterson's subject is the dynamic of the conflict itself. Futurism emerged from a feeling of powerlessness and humiliation, which caused its adherents [as with parts of U.S. society today] to turn towards authoritarianism and violence," wrote a release by the gallery.

In this new body of work, Peterson contemplated how subjective perceptions of the past and future can be manipulated to justify actions in the present. Through his protagonist, Peterson shares how nostalgic longings, aspirational hopes, critical reflections, apprehensive fears, and the false hope of potential utopias lost or yet to come, can lead to acts of barbarism.
"In this world, chaos and confusion become the norm; there is no hope for a better future, no possibility of redemption or salvation, and no space for individual freedom. The only way forward is to be conscripted to serve in hate, division, and punishment in a brutal struggle for survival that will eventually destroy us all," the artist shared
The exhibition marks Peterson's first with the gallery at its Paris location and his fourth with Over The Influence globally. Interested viewers will be able to experience the works from now until July 29.
For more on art, VILLAZAN hosts Adam Handler's nostalgic artworks in "For You" exhibition.
Over the Influence
2 Rue des Saussaies
75008 Paris, France