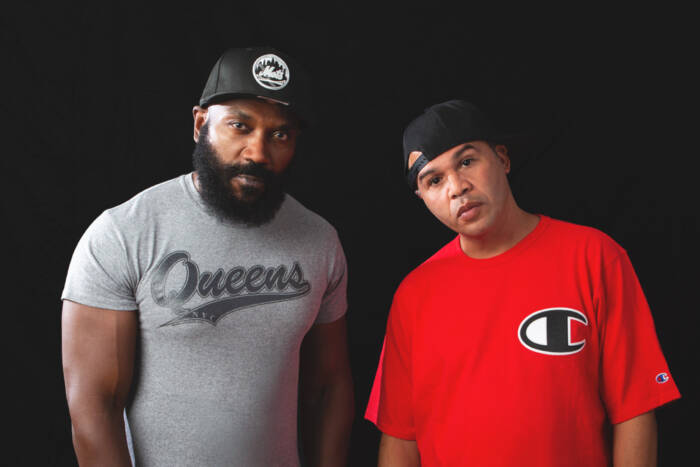 One year after releasing their self-titled EP on Fool's Gold Records, Da Odd Couple's Mista Sinista and DJ Rob Swift are back with a stellar new project, Against All Odds. And this time around, the deejay duo have linked with Fat Beats Records to drop this full-length release. Even better, they linked with their mentor, Dr. Butcher, to executive produce the entire project.
The importance of connecting with the Dr. goes beyond merely making great music together. "The whole experience brought Sin and I full circle as we reunite with Dr. Butcher whom, to a large degree, we owe a debt of gratitude for showing us the proverbial DJ ropes when we were DJ nobodies training to be DJ somebodies," Swift says.
Sinista echoes those same sentiments, "Butcher took us under his wing and showed us what it meant to be true DJs. That was 30 years ago but the student teacher connection is still there. We couldn't have finished this project without his help!"
Against All Odds is packed with ten hard-hitting tracks featuring deejay veterans and emcees alike. Kid Capri, DJ Q-Bert, DJ Ace and fellow X-Ecutioners member Total Eclipse bring out the machetes on joints like "Sinphony," an incredible showcase of their abilities. Then, their emcee counterparts hold down the mic on tracks like "New York Minute" featuring The Real DMT, "New York Straight Talk" featuring Uptown Bodega and CJ Moore, and "No Sinpathy" featuring Ray Lugar and Ke Turner. However, it's the eerie joints like "Against All Odds" and "Escape From New York" that speak to the greater theme behind, Against All Odds.
Speaking on that theme, Swift says, "Sin and I have been through so many ups and downs since the days of us linking up at Dr. Butcher's house to train. No matter what obstacles have come our way though, we've carried on doing or what we believe in as DJs, despite those struggles. It takes lots of patience to acquire the success we've had." Sinista adds, "But it's also a faith and trust in God, especially when things didn't go the way we wanted them to go at a particular time."
It's safe to say that things have certainly gone their way this time around, because Against All Odds is a gripping demonstration of Da Odd Couple and Dr. Butcher's incredible talents and, more importantly, their lasting legacy.
Against All Odds is available now through all digital retailers and streaming platforms via Fat Beats Records.