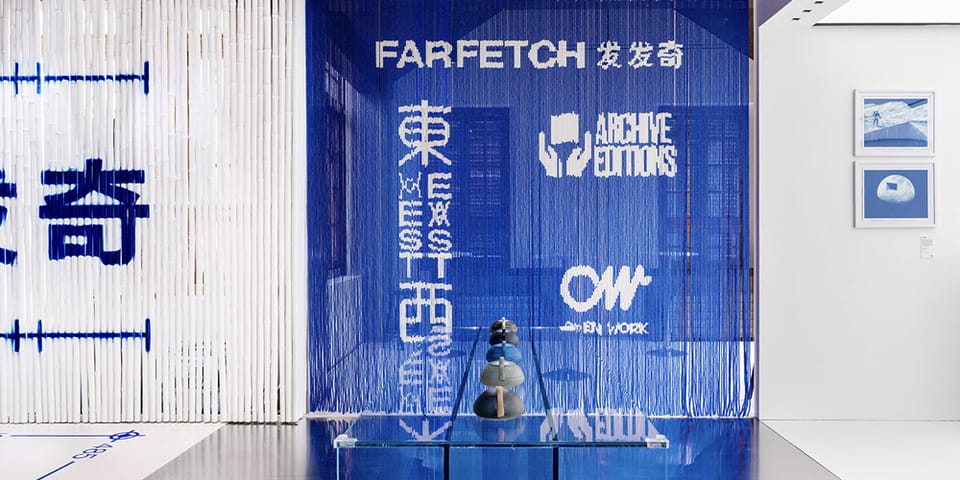 Last week at Design Miami/ Podium x Shanghai, Daniel Arsham unveiled the official East West Project exhibition, curated in collaboration with multi-disciplinary artist Oscar Wang.
The project explored beyond the superficial and outdated notion of "east meets west", which at first seems like an obvious naming as Arsham is an American artist, while Wang is Chinese. In fact, the East West Project is deemed as more of a "blueprint" for amalgamating traditional craftsmanship with contemporary aesthetics. The name of the project was also a play on words in Chinese, as "east west" or "东西" (pronounced dōng-xī) is more often used in referring to objects, making this a fitting concept that encompassed the project's limited series of collectibles.
Adorned with a grid-like patterned design reminiscent of a blueprint, the Dōngxī Teapot was undoubtedly one of the key highlights of the exhibition. A first in the series, the teapot was constructed from rare Minguo green clay and was hand-crafted in the historic city of Yixing — a place that is renowned for its pottery and teaware. A futuristic tea house was also integrated inside the exhibition space, where a tea master performed live demonstrations and tea ceremonies that showcased the functionality of the Dōngxī Tea Set. Elsewhere in the exhibition, a selection of Arshams's Archive Editions was set up on plinths for display.
Standing at the heart of the exhibition, visitors were enveloped in an immersive "blueprint" where the walls and floors are decked with linear markings, complete rows of bamboo, and modernistic decorative screens that embellished the space. Curated as a multi-sensory experience, the exhibition space was permeated with features that emphasized reimagining traditions, as well as the amalgamation between two cultures. In addition, a reimagined and all-white apothecary was also included in the space where the limited-edition Dōngxī Teapot, alongside other merchandise was available for pre-ordering.
Elsewhere in art, French artist JR spotlights the refugee crisis in a new exhibition.