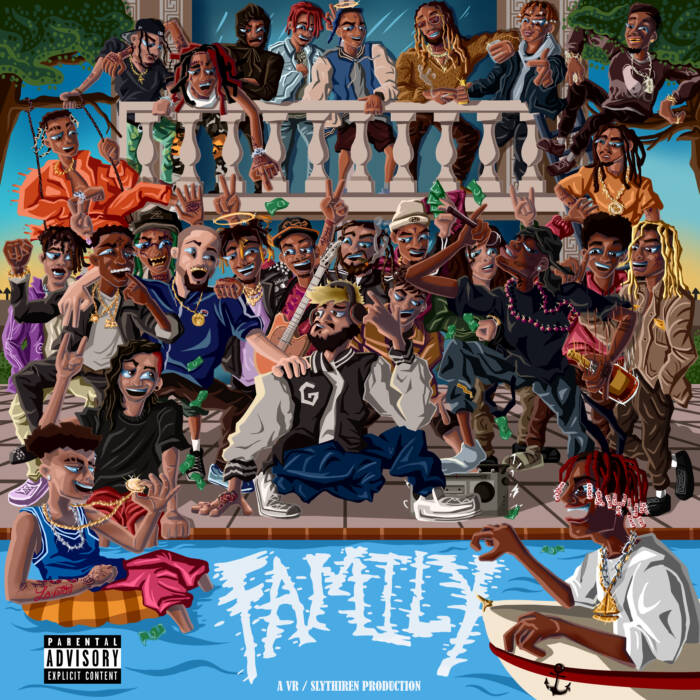 DJ Scheme is a quintessential connector, an expert at piecing together musical collaborations and fostering electric chemistry. Recruiting some of his closest friends–who also happen to be some of rap's biggest stars–to help realize his vision, Scheme shares FAMILY, his debut album. A celebration of musical kinship, the album explores how creative partnerships can create deep familial connections and reinforce a sense of community. Scheme had a hand in the production on each of the project's 17 tracks, creating a diverse, yet cohesive flow that echoes Scheme's invigorating DJ sets at Rolling Loud and elsewhere.
Throughout the project, Scheme proves to be a natural at finding the hidden chemistry in unexpected partnerships, as well as finding new avenues to explore the South Florida sound that took rap by storm. On "Blue Bills," Scheme combines Florida rapper $NOT and L.A. standout Fenix Flexin of Shoreline Mafia, who prove to be perfect sparring partners above a propulsive and bassy beat. Recent single "Soda" (over 2.5 million Spotify streams) connects unlikely kindred spirits Cordae and Ski Mask The Slump God over a stomping piano-led beat by Scheme and Take A Daytrip. Scheme also finds new angles for artists who share similar styles, creating a smoothed-out West Coast riders' anthem for Lil Mosey & Ty Dolla $ign ("Bussin' Out") and reuniting Ski Mask, Lil Yachty, and Danny Towers for "E-ER," a spirited sequel to their Gold-selling collab "How You Feel" (which also appears on the project).
Scheme's collaborators also inspired the 23-year-old artist to add new elements to his production. The soul-sampling cut "Trust Nobody (2 My Brothers)" provides a pristine, traditionalist canvas for Joey Bada$$, while iann dior has a vocal showcase atop gently arpeggiated acoustic guitars on "Baby." Album opener "Homesick" enlists the aid of Skrillex and Zacari uses airy synths, tasteful guitar, and swelling vocal choirs to achieve a mournful, gospel-adjacent tone. Despite the stylistic expansions, Scheme aims to satisfy longtime fans with trunk-rattling productions, like the towering instrumental offered to Lil Keed on "Top Of The Mountain," and punchy trap bangers like "Zebra" ft. Jackboy and Danny Towers.
An ambitious debut for the multi-talented DJ/Producer/Artist, FAMILY establishes Scheme as a tastemaker with a distinct aesthetic and a wide musical range. Featuring additional appearances from Skrillex, Zacari, Lil Gnar, Shakewell, TheHxliday, Tes-X, and more, FAMILY is available everywhere via Scheme Records/EMPIRE.
Buy/Stream FAMILY: https://music.empi.re/family
FAMILY Tracklist:
1. Homesick ft. Zacari & Skrillex
2. Trust Nobody (2 My Brothers) ft. Joey Bada$$
3. Thor's Hammer Worthy feat. Ski Mask the Slump God & ZillaKami
4. E-ER ft. Ski Mask, Danny Towers & Lil Yachty
5. Bussin' Out ft. Lil Mosey & Ty Dolla $ign
6. Soda ft. Ski Mask & Cordae
7. Splurgin ft. Lil Gnar & Shakewell
8. Baby ft. iann dior
9. Fallin 4 U ft. TheHxliday
10. It's Alright ft. Tes X
11. Blue Bills ft. $NOT & Fenix Flexin
12. How You Feel ft. Danny Towers, Ski Mask The Slump God & Lil Yachty
13. Zebra ft. Jackboy & Danny Towers
14. 3 Sum ft. Robb Bank$
15. Top Of The Mountain ft. Lil Keed
16. Feel ft. Cris Dinero & G.Wakai
17. Piece Of My Heart