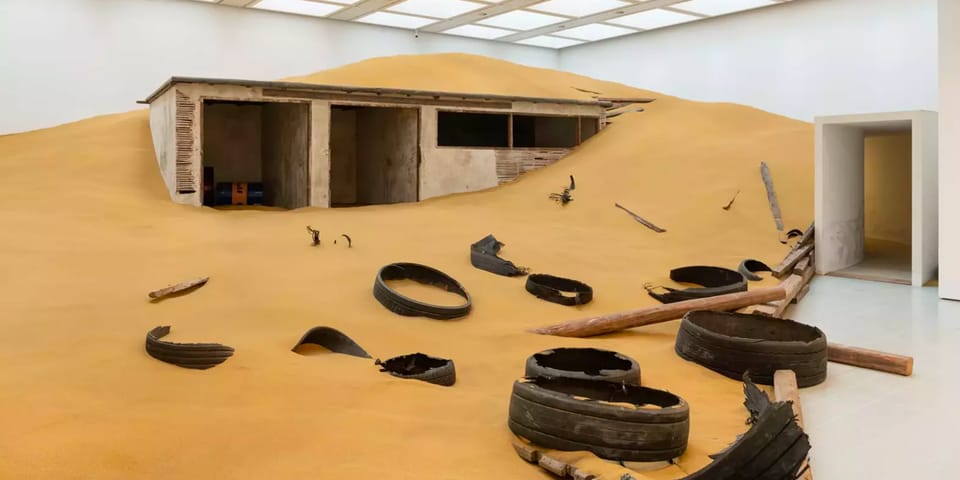 Mike Nelson is a British artist best-known for creating immersive installations that teeter between fiction and reality. Having represented the UK at the 2011 Venice Biennale, Nelson has been recently focusing his output on found objects that he recreates into enigmatic sculptures and settings, such as his latest solo exhibition at London's Hayward Gallery.
As the name suggests, Extinction Beckons is both atmospheric and distressing. Like a scavenger in a dystopian world, Nelson created a labyrinth of rooms made of materials found in junk shops, auctions and flea markets, reminiscent of science fiction, and commenting on the failed promises of modernity and political movements.
In many ways, Nelson's strange rooms are snapshots of promises that are lost to time and implore visitors to reflect on alternative ways of living and thinking — from antiquated belief systems to traditions and cultures that resist inclusion in an increasingly homogenized and globalized world.
The exhibition marks the first major survey on Nelson's career and will be on view at Hayward Gallery until May 7.
For more on art, Noel Mercado and USM Modular Furniture team Up for One and the Same exhibition.
Hayward Gallery
Southbank Centre
Belvedere Road
London SE1 8XX