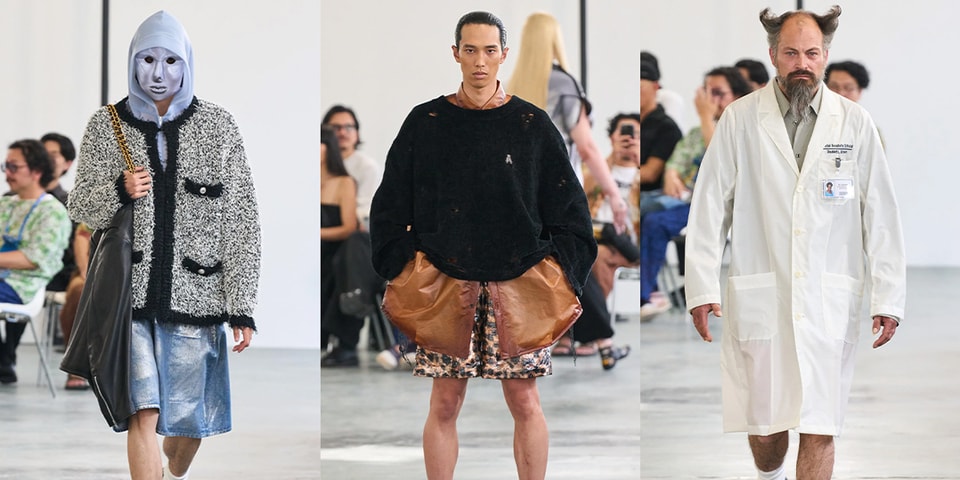 Tokyo-based label Doublet just presented one of the most interesting runway shows of Paris Fashion Week. As the Spring/Summer 2024 season continues, we have seen designers explore all areas of time. While some have returned to their routes, Doublet heads to the future.
Doublet's Masayuki Ino placed a sentimental note on every seat at his show, detailing an emotional journey of rejection. Seamlessly written by a computer, the runway was set in an artificial universe. Ino's shows often touch on current global concerns, now embracing the development and fear of artificial intelligence.
A futuristic approach was delivered with a humorous background as some models sped down the runway on hoverboards and others stormed through like hurricanes. Doublet presented digitally-faded denim ensembles with a vintage finish, technical mesh outerwear, and ordinary brown bag-shaped accessories. An array of metal-foiled looks arrived with slashed waistlines and frayed edges, while LOEWE-esque "I Heart 3D" graphic tees boasted a digitalized and three-dimensional design.
Evil scientists with horned hair, "Artificial Relativity Scholar" lab coats, and Dr. Doublet name tags cautiously marched beside elegant soldiers wearing tweed military jackets and leather pants secured from golden chains. A futuristic dolphin closed the show with a novel look, exhibiting a sinister animal face mask, a frazzled tweed jacket, and silver-trimmed jorts.
Take a look at Doublet SS24 in the gallery above, and find more Paris Fashion Week SS24 content on Hypebeast.
In other fashion news, leaves fell from the Feng Chen Wang tree for SS24.