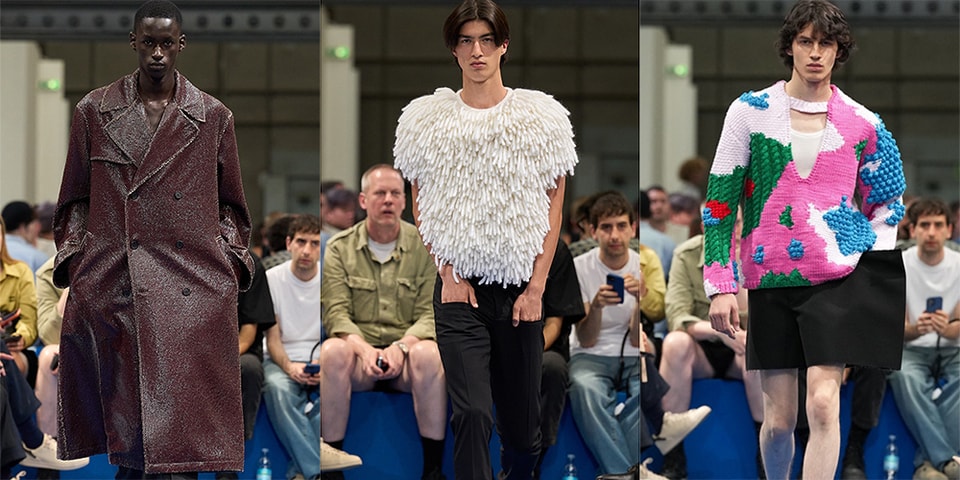 Jonathan Anderson and his eponymous label, JW Anderson, is perhaps the most hotly anticipated moment of Milan Fashion Week. Season after season, the renowned designer (who also heads up LOEWE) finds new ways to challenge the norm and throw us a curveball that's hidden in plain sight. As you might have been able to guess by now, Spring/Summer 2024's menswear and women's Resort 2024 co-ed was no exception.
Last season, Anderson said that "we shouldn't be scared of subversion." He did so by exploring "a very raw state of mind," and it seems as if the designer has continued this ethos for SS24, and consistently with his out-of-the-box collections for LOEWE.
Here, the designer kicked things off with thick jersey polo-neck sweaters and asymmetrically cuboid shorts, leaving the leg bare to reveal silk-clad clogs. House-staples like the Bumper silhouette was reinterpreted as dresses and tank tops cut in thick wool, and pillowy proportions played out on dolly dresses, Ã  la his own work for the aforementioned big-brand House.
But it was indeed the complexities hidden within the simplicity of it all that truly struck a cord with the showgoers, as leather car coats appeared more like sleeves of leather to shield the body, devoid of any movement or motion.
Instead, the movement came from the most unexpected of places — footwear, notably a mule, was shaped like a paw that pounced every time the models took a step on the runway. Movement was found on a red sweater top that saw one arm long, the other short, and metallic circles sparkling randomly all over. Movement was everywhere, most obviously in the Bumper tubes that warped around torsos, or with sweater vests made from interlocking sections of multicolored wool.
And it subsequently moved us, proving that JW Anderson really is one of Great Britain's finest designers. His vision speaks volumes on the runway and works just as well IRL, which is what makes a runway collection particularly special — when you can imagine this being worn by anyone, anywhere.
While the collection did grow into some more adventurous moments, with sweaters sporting fringes on the front and others crafted from balls of knitting thread, or avant-garde apron dresses and three-dimensional textured sweaters, it still feels incredibly wearable. And there's nothing simple in that.
Above all else, Anderson stuck to what he knows and perfected it, fine-tuned it, even more precisely than before. Dresses with concealed pockets were reminiscent of past designs, as were the pajama-fied wool two-pieces that reminded us of LOEWE's slouchy ease.
As the saying goes, "If it ain't broke, don't fix it." But the very least you can do is learn from Anderson — master it instead.
Take a look at JW Anderson SS24 in the gallery above, and find Hypebeast's Milan Fashion Week SS24 coverage here.
In case you missed it, take a look at the rising Scottish icon that is Charles Jeffrey LOVERBOY.