The Nike Air Ship, launched in 1984, was a precursor to the iconic Air Jordan 1 and played a pivotal role in sneaker history. Featuring Air cushioning technology and innovative design, it set the foundation for the Air Jordan line's success. Known for its red and black colorway, the Air Ship's banning by the NBA generated buzz and fueled the legendary Air Jordan legacy. This silhouette remains a symbol of basketball culture and sneaker innovation.
Michael Jordan wore this pair in his fifth NBA game of his rookie season when the Bulls played the Nuggets. Jordan scored 33 points and later gifted the sneakers to former Nuggets ballboy T.J. Lewis. Basketball fans, and definitely Michael Jordan lovers, will flock to this pair. A chance to own a pair of sneakers that are part of Michael Jordan's legacy is a once in a lifetime opportunity. That being said, this pair definitely isn't cheap, as the starting bid is $100,000 and it's already been bid on.
Read More: Air Jordan 6 Low Golf "Gift Giving" First Look
Up For Auction: Nike Air Ship
The sneakers feature a red rubber sole with a white midsole. The uppers feature a white leather base with more white leather overlays. Red accents match the sole on the Nike Swoosh and up near the sock liner. A red Nike logo can also be found on the tongue. Obviously this pair has been worn, and you can see from the markings on the leather. The staff pass is from the former ball boy and is included with the sneakers. The sneakers also have Michael Jordan's signature, which you can see from the photos below.
More Photos
The sneakers are currently up for auction on goldin.co and the current highest bid is $160,000. The auction will run until September 13th and will end at 10PM EST. Further, make sure to let us know what you think about these kicks in the comments below. Additionally, stay tuned to HNHH for the most recent updates and news from the sneaker community. We'll make sure to offer you the newest products from the most notable brands.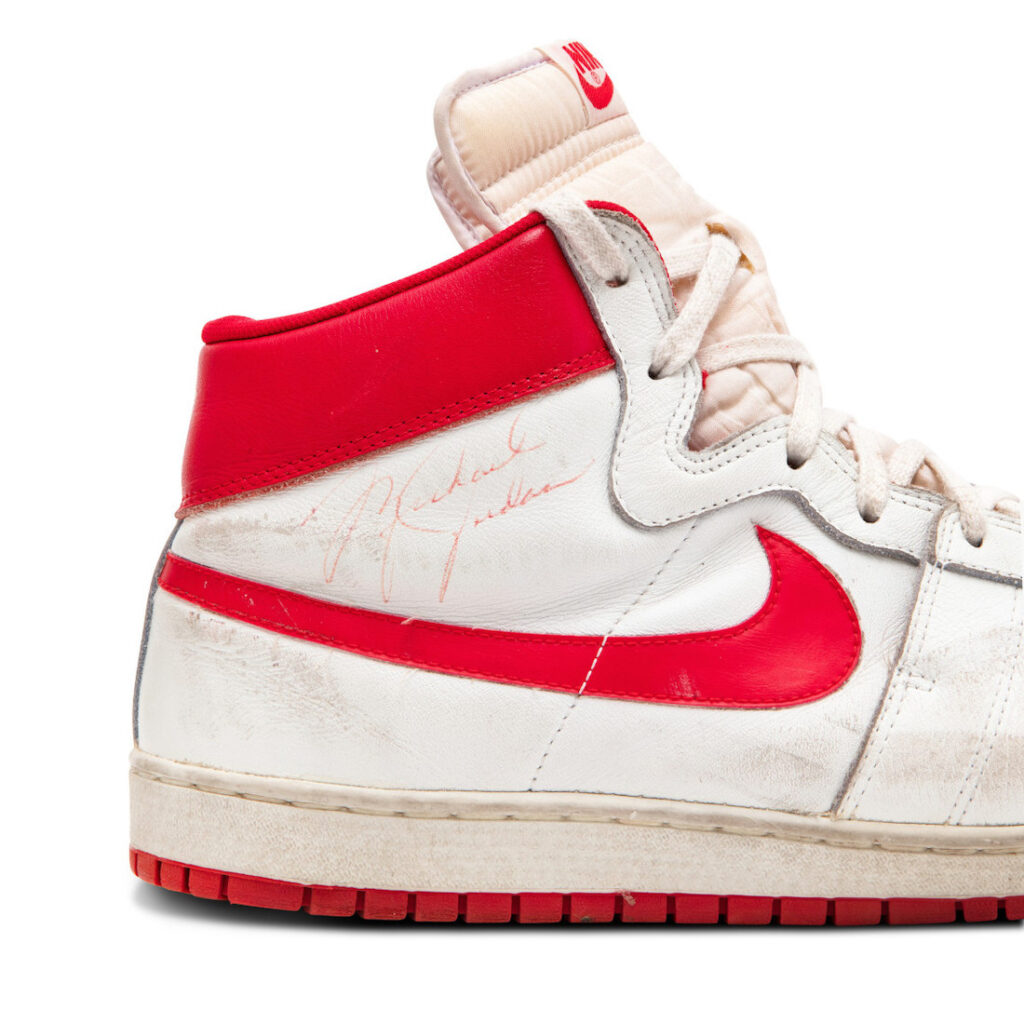 Read More: Air Jordan 1 High Golf x Eastside Golf "1961" Release Details
[Via]