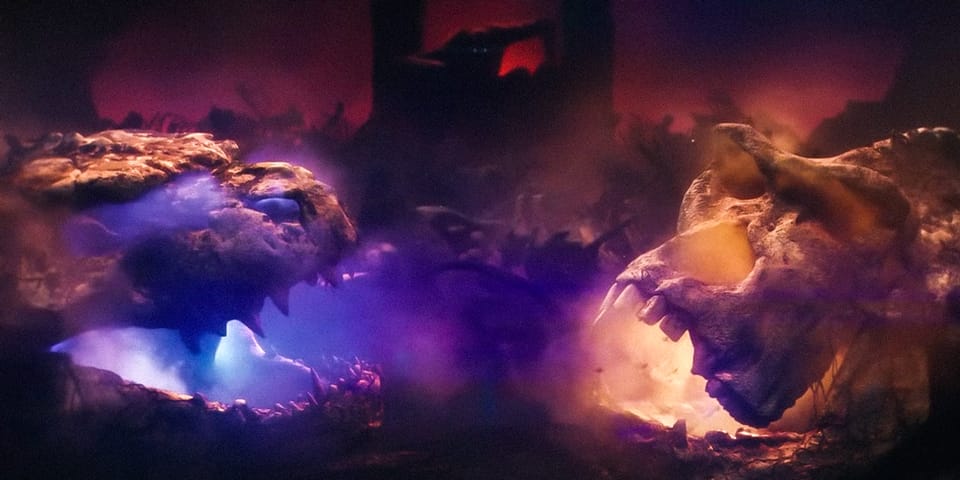 Following the success of Godzilla vs. Kong, Legendary Entertainment was quick to announce a sequel to the 2021 film to launch the Monsterverse. Building on the news regarding the sequel last year, we now have an official title for the upcoming movie. Titled "Godzilla x Kong: The New Empire," Legendary Entertainment and Warner Bros. Discovery recently shared an announcement video revealing a new apex predator set to be the new big bad in the film.
The teaser shows the menacing Titan monster sitting on its throne staring into the abyss with its piercing eyes, glowing blue. As the scene zooms out, we get a look at the bones that surround him, most notably the glowing skulls of Godzilla and King Kong.
Godzilla x Kong: The New Empire is expected to pick up where Godzilla vs. Kong left off, with Godzilla and King Kong united against a new threat from Hollow Earth. Additionally, the film will serve to build out the mythology of the Monsterverse with a look at the origins of the Titans and Skull Island
Directed by Adam Wingard, Godzilla x Kong: The New Empire, releasing sometime in 2024, will see the return of Rebecca Hall, Bryan Tyree Henry, and Kaylee Hottle, along with the additions of Dan Stevens, Fala Chen, and Rachel House.
For more entertainment news, the thrilling action of Sakra is teased in "The Broken Sword of Dali" clip.