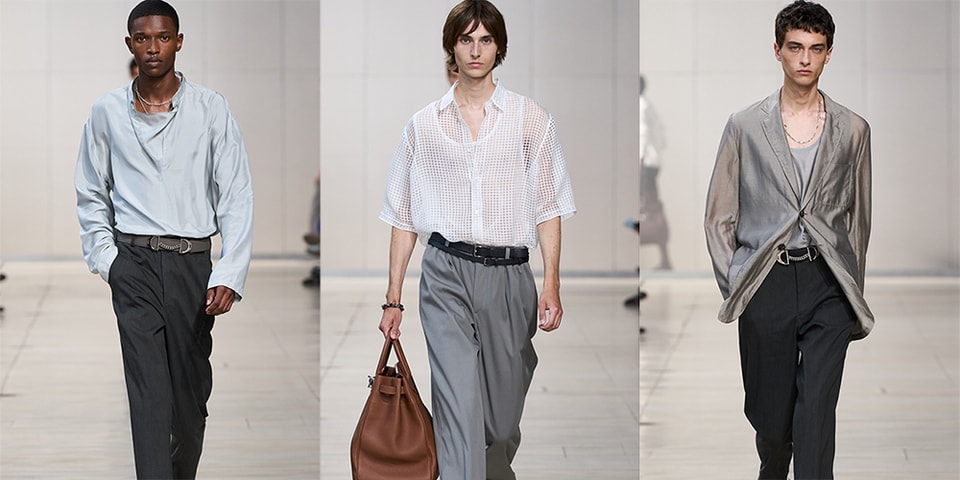 Sit back, relax, and dream of an Hermès Spring/Summer 2024 paradise. "The summer is serene and joyful, the air is cool, the allure is unequivocally sensual" — that's where Véronique Nichanian is taking you this heatwave, a paradise of Hermès signatures, technical fabrics, cashmere, silks, semi-transparent cotton and plenty of bags to keep all your warm-weather necessities in easy reach.
For a brand as storied and regal as Hermès, SS24 was rather laid-back, almost irreverent for something so lauded as this. But in doing so, Hermès acknowledged it — alongside brands like ZEGNA, Loro Piana and Bottega Veneta — are the epitome of quiet luxury, and by eschewing overt opulence for a subtler, more wearable aesthetic, Hermès played well into the hands of trendsetters and tastemakers.
To put it into perspective, SS22 was a collection decked in rich leather off the bat. Fast forward to today, and we're faced with lightweight shirts cut in semi-transparent technical materials, checkered with a grid pattern and paired with equally breezy slacks. Suit jackets are not fitted, allowing for room to breathe literally and metaphorically, as the House deconstructs stuffy traditions (and air). As if you weren't already heading to the private member's beach club, Hermès then introduces hot pants in nylons, ribbed knit cashmere that's extra-breathable, see-through jackets and double-breasted blazers, and micropore mesh zip-up outerwear for when the sun comes in.
Likewise, the footwear is leaning towards a summer of relaxation, while silk shirts printed with the House's iconic vintage designs add an air of playfulness — ready for the after party, Hermès style of course.
All this comes with a heavy collection of bags, from Evercalf and Swift calfskin Mousqueton bucket bags to the Cordage tote bag in rope and Clémence bull-calf, classic Haut à Courroies Coup de Soleil bags in Togo calfskin, Garden Party Voyage bags in H canvas with Dancefloor au Faubourg prints and a Sombrero calfskin leather backing, and of course, there's plenty of accessories to match. Here, we find notched sole leather sandals, adding a chunkiness to Hermès' typically slick world, necklaces and bracelets in palladium hardware (just like some of its most expensive Birkin bags), and a variety of Twilly silks.
Hermès' SS24 menswear collection can be seen in the gallery above. Find more Paris Fashion Week SS24 content across Hypebeast and our social channels.
In case you missed it, take a look at the technical elegance that is Kiko Kostadinov SS24.