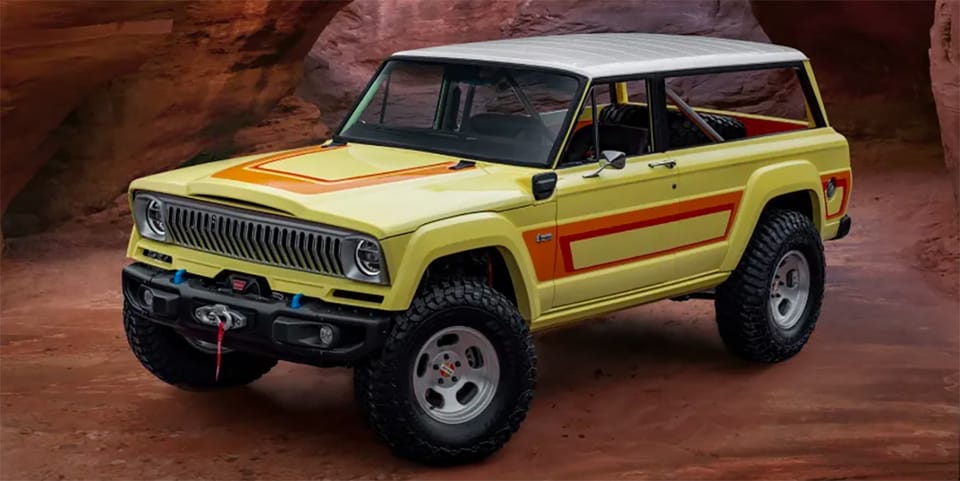 Jeep hosted its annual Easter Jeep Safari event held in Moab, UT this year where the automotive manufacturer will often flex prototypes and outlandish concepts. Falling under the category of the latter is this 1970s Jeep Cherokee that has been amalgamated with a 2022 Jeep Rubicon 4xe.
The Frankenstein-esque automobile merges throwback aesthetics with modern performance specifications. The two-door vehicle bears a retro paint job that is anchored by a bold, "Starburst" yellow hue while old skool orange and red trimmings rest on the hood and the side doors. Flip open the hood, and you'll find a modernized engine that is equipped with two electric motors, a 2.0-liter turbocharged I-4 engine and a high-voltage battery pack. It's built with an eight-speed automatic transmission and 37-inch tires that are wrapped around 17-inch "slotted mag" wheels. The back is crafted with a four-point safety cage instead of a rear bench seat and a rear cargo space that can fit a full-sized spare tire. Additionally, the car possesses 900 pounds of torque and 650 horsepower.
The car is now on display at Jeep's Utah Easter event from April 1-April 9.
Looking for more car-related news? Porsche Thailand revealed a special edition 911 Carrera GTS on its 30th anniversary.