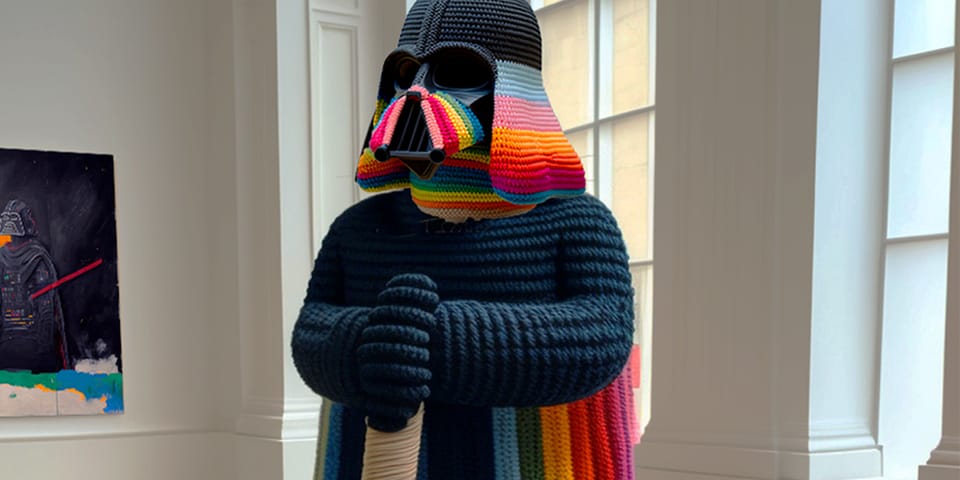 Contemporary sculptor and artist Ken Kelleher has revealed his latest set of creations with Darth Vader as his muse. Having dressed the Star Wars antagonist in colorful quilts and blue porcelain, Kelleher now imagines the dark lord of the Sith in hand-woven knitting.
Two variations of Vader are available for purchase, both of which stand at 180 cm (approximately 5 foot 9 inches). Well Dressed Darth is "lovingly handcrafted" in black high gloss resin and is seen wearing a handmade wool garment and wielding a woven lightsaber. "A staple for any nice villa or space cabin," the life-sized sculptures are available in editions of 15. Meanwhile, the alternative Knit Darth is 100% hand-knit over a 3D resin frame and is made to order.
"I have learned to use the Force for good, buy me and I will make you a Jedi of the highest order," Kelleher writes in the description.
Complimentary merch including knitted Darth Vader cardigans, sweaters, and hoodies will soon be made available for purchase. Other recent knitted creations from the artist seen on his socials include depictions of The Simpsons, the Chicago Bulls, and Batman.
Priced at $75,000 USD, Knit Vader and Well Dressed Darth are now available for purchase at the Ken Kelleher website.
In other news, Seth Rogen's Houseplant drops a new Gloopy collection.