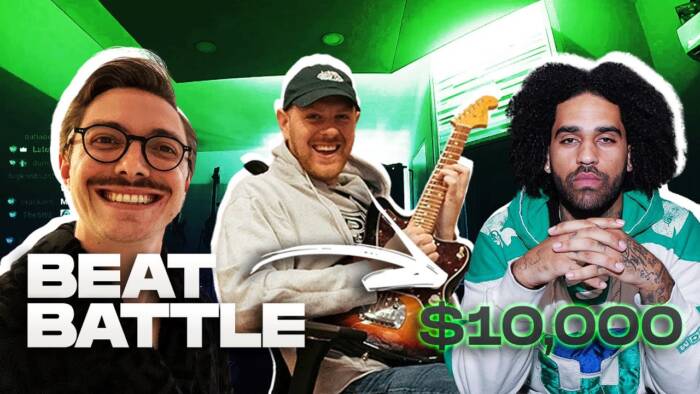 After an impressive 30 week run of Beat Battles, last week Kenny Beats announced the final to season one live on his twitch. Guest judge MixedbyAli joins in with an amazing sample provided by Marc Rebillet. The video's intro is a solid recap of the beat battles and is edited to keep a good glow going throughout the hour-long beat battle.
The three criteria for the judges are sample usage, arrangement, and general creativity. This is a heated beat battle because all the competitors are previous winners of the preliminary rounds. Before the battle Kenny and Ali take the time to speak to the contestants to learn more about them are their music.
The competition kicks off with Hellberg who put together clever samples over a beat that is a mashup of styles. The second producer OKSAMI has been bringing the funk for the past 8 months and this week brings the STANK with great use of the sample and arrangement. Next up is a surprise wildcard Monkey Rascal who dropped a beat with very creative uses of the samples and a wild arrangement with lofi flavors.
Next up is favorited producer Matt Zara whose final submission was one of the best beats from all the beat battles. His finale beat is a total bop and easy favorite to win the battle even though there is still more contestants after him. The next battle participant Memblem looked shook from Zara's beat but then came with some SERIOUS heat flipping the sample crazy.
The last few producers brought a lot of weight to the competition which was then rounded out with LVUSM, Tamir, Walzy, and lastly another favorited produced Spell! All the beats from the competitors are worthy of the win and now its up to Kenny and Ali to judge.
Kenny and Ali discuss the beats and open up a voting poll for 7 minutes to help decide the winner. After some tense drumrolls the top three are announced. OKSami, Matt Zara, and Spell who all flamed the competition with west coast style slappers. Kenny Beats states that all three should be supported and celebrated but its only one winner. After thirty weeks of beat battles the season one champion is none other than Matt Zara.
Make sure to tune in to the full battle below and follow both Kenny Beats and MixedbyAli on Twitch!