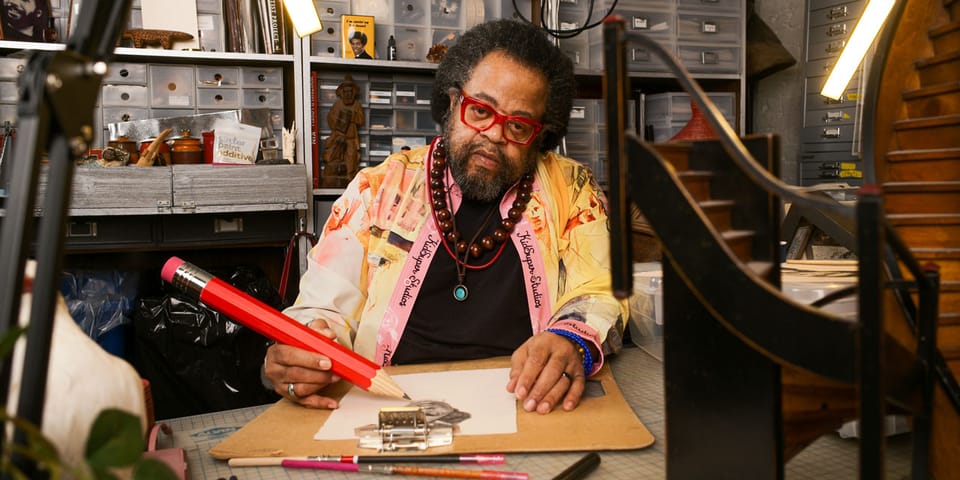 KidSuper's Colm Dillane is a storyteller. Whether it be a comedic runway show, a multifaceted campaign or a simple lookbook, storytelling remains a focal aspect of the brand – one that continues to solidify its loving community. Now the Brooklyn-based brand has revealed its artist-inspired Spring/Summer 2023 campaign and like the others, storytelling remains its warm mechanism of presentation.
The brand's SS23 collection made its debut in June of 2022 with an auction-inspired runway show. Titled 'Superby's,' the clever auction fashion show aptly blended the arenas of art, fashion and performance theater. Yet again, Dillane subverted the traditional notion of a fashion show – offering an exhibition of life, culture and unrestricted fun. To elevate the artworks and artwork-inspired pieces that rest in the SS23 collection, the new campaign highlights a caliber of American artists including Whitfield Lovell, Charles Atlas, Judith-Blum Redding and Robin Winters.
The strikingly colorful and poignant campaign images showcase the four artists in the collection's artistic creations like suiting, overcoats, relaxed pants and accessories against their respective artworks. Also part of the campaign is a series of short video interviews with each artist that details their inspiration and experience in 70s and 80s New York.
[embedded content]
Take a closer look at KidSuper's SS23 campaign above with Drop 1 of the collection releasing today online.
In other news, the nine finalists of the 2023 LVMH Prize have been announced.