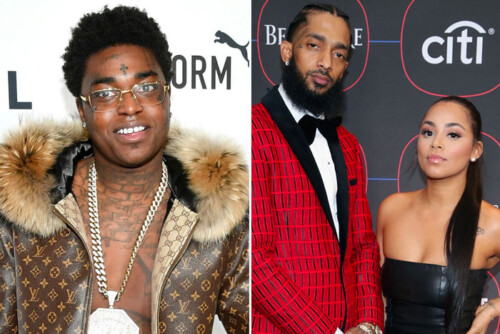 If you recall, Kodak Black had some disrespectful ass comments about Lauren London, in the wake of Nipsey Hussle's death last year. He boldly proclaimed that he would "wait a whole year before pursuing" Lauren; who, as you know, was Nipsey Hussle's partner.
"Lauren London dat baby though. She finna be a whole widow out here. I'll be the best man I can be for her. I'll give her a whole year. She might need a whole year to be crying and shit for him," he distastefully stated in an IG Live back in April of 2019.
SMFH.
A year later, it appears as though Kodak got some sense knocked into him as he's released a formal apology via Instagram, once again. He even paid homage to the late rapper.
The young rapper is currently in federal prison, serving time in Kentucky for false claims on federal forms. His release date is set for August 14, 2022.
View this post on Instagram

Willin To Accept When I'm Wrong & Stand Firm When I'm Right. The Whole World Know Your Example Was A Guiding Light. I Pray Your Fam Light & Accept This Humble Apology In My Kite. You Remind Me Of Icecube, Bunchy Carter & Huey P. A Hustler & Owner The Second Coming Of Easy E. What Happened To You Could've Happened To Me! Im a Young Philanthropist Like You. Even Tho We From Two Different Worlds, I Saw Your Vision But I Notice That My Words Are Often Misinterpreted. Sometimes A Man Say Things He Doesn't Really Mean But On Some Z Shit I Never Meant To Disrespect Your Queen, Homie I Was Really Respecting Your Scene. #FLYHIGH Ima Keep The Marathon Going #KINGKAHAN @nipseyhussle @laurenlondon
© 2020, MariaMyraine. All rights reserved.