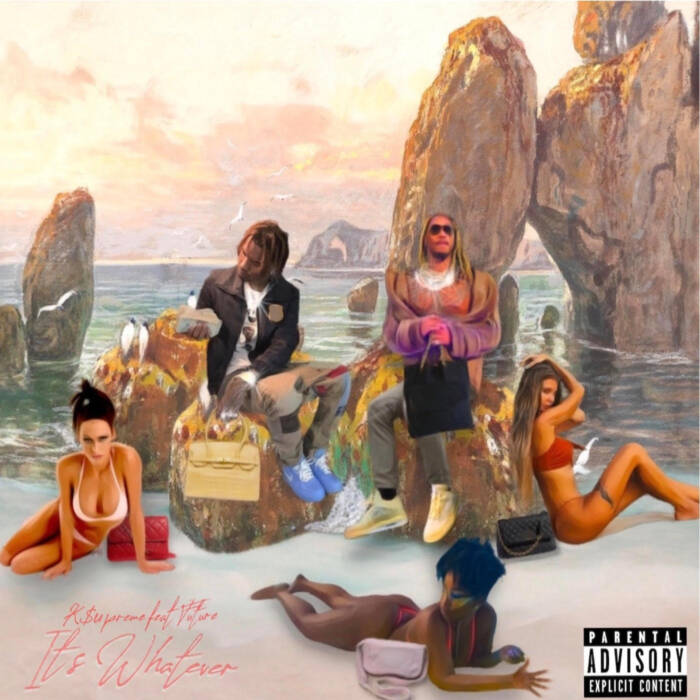 Known for his time as a part of close friend Lil Yachty's Sailing Team, K$upreme is a versatile artist who's always looking to expand his sound. Tapping ATL icon, Future, for a hook, K$upreme is back with a new melodic trap anthem, "It's Whatever," dropping this Friday, 10/2 via Atlantic Records. Riding over a luxurious, spaced-out trap instrumental, K$upreme is all about the flex, dropping bars about flaunting designer threads for his girl: "I put the Chanel sh*ts on your face/Look at the stairs while you riding in the Wraith/Put them diamonds on your neck, now you know you bae," The track is bolstered by Future's hook, which rumbles like a thunderstorm above the syncopated kick drums as Pluto brags about his bands.
When I asked about his linkup Future, K$upreme mentioned that he was originally hoping to record an up-tempo, club record.But when his producer sent through this beat instead,"Future really liked it and just started singing and then recorded to it. After we finished the song and I sent it to Future, he was laughing and telling me 'I know you like the song now, right? You know it this is a hit now, right?' It was real special, man." Not only does this speak to Future's ear, but I think it speaks more to K$upreme's ability to adapt and move his sound forward. He's been teasing a new project on socials, but for now, check out an early streaming link to "It's Whatever" below.
"It's Whatever" is K$upreme's first new single since the release of Caught Fire, the Atlantic Records signee's latest project. Created in collaboration with producer ChaseTheMoney, the project paired K$upreme's flex-heavy bars with Chase's thudding low-end, and featured appearances from Chief Keef and K$upreme's good friend Lil Yachty. The project concluded with the standout single "Gucci Cologne," which generated over 25 million streams across platforms. The 24-year-old rapper started his career as a member of Lil Yachty's Sailing Team, but quickly made a name for himself with projects like Flex Muzik 2.