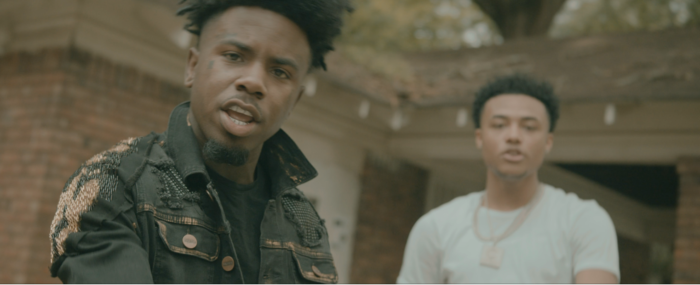 Today, Pensacola emcee LBS Kee'vin released new video "Toxic" featuring Luh Kel via Visionary Records/Columbia Records – listen HERE. Produced by Sharke "Toxic" is a lovestruck slapper as Kee'vin & Luh Kel proudly assert their dedication to calling their loves despite not hearing back from them for a naughty surprise. In the video, a hopeless LBS Kee'vin pleads to his lady to answer the phone while Luh Kel creeps through the back door for a sneaky link, displaying a level of toxicity that's unmatchable. Watch the DrewMadeIt directed video HERE. 
 
"Toxic" featuring Luh Kel is the Kee'vin's latest single in a busy 2020, which included four new tracks and some standout collaborations with 42Dugg and 2KBaby. Starting the soulful next chapter of his young career, Kee'vin prepares for release of his forthcoming sophomore project Belair Baby II. Featuring appearances from 42Dugg, Luh Kel, 2KBaby, Juicy J, Yungeen Ace, and Dee Watkins, Belair Baby II is set to release this Friday 12/4. Check out the tracklist below.
"I never thought I'd be rapping. I just started making music because I wanted to change my lifestyle," admits 24-year-old LBS Kee'vin. "It was then, I started falling in love with it." Praised by HNHH on his debut tape Belair Baby, which has now surpassed over 7 million streams to date, 'Loyal Bag Supplier' Kee'vin continues to flaunt his passion for rap. The melodic rapper from the streets of Pensacola, with an unpredictable flow has released several bangers including "Lifestyle", eerie banger "Diverse", "John Doe", and newly released "Shining" featuring 42Dugg, which has gained over 1.2 million streams across all platforms. While averaging 187K monthly listeners on Spotify, the Visionary Records/Columbia Records artist is using his talent to change his life and uplift his family in the process. "My number one motivation is to buy my mama a new house; I feel like it's coming real soon." With music dropping all of 2020 leading up to his follow up project "Belair Baby II" later this year, Kee'vin is making it happen for himself and others around him.
Belair Baby II Tracklist
1. Scandalous (Prod. By NIKOINPARIS x SOKUBEATS)
2. JFK (Prod. By Bill Did The Beat)
3. Shining Ft. 42 Dugg (Prod. By Flex, Swaeze, illphill)
4. John Doe (Prod. By Sharke)
5. Lamar Jackson (Prod. By Bugz Ronin)
6. Classy Bitch Ft. Juicy J (Prod. By Young Kilo)
7. Open Diary Ft. Yungeen Ace (Prod.By Hakz Beats)
8. Conceited Ft. 2KBABY (Prod. By Xavi)
9. Lost Files (Prod. By LC, Young Kilo)
10. Toxic Ft. Luh Kel (Prod. By Sharke)
11. Mixed Emotions (Prod. By Drell On The Track x MJ Nichols)
12. Demons (Prod. By DJay Cas For Honorable Court x MTK)
13. Thug Cry Remix Ft. Dee Watkins (Prod. By Drum Dummie)
PURCHASE/STREAM "TOXIC" FEAT LUH KEL
ITunes | Apple Music | Spotify | Amazon | Audiomack | YouTube | YouTube Music
CONNECT WITH LBS KEE'VIN:
Instagram | Facebook | Twitter | Soundcloud | YouTube