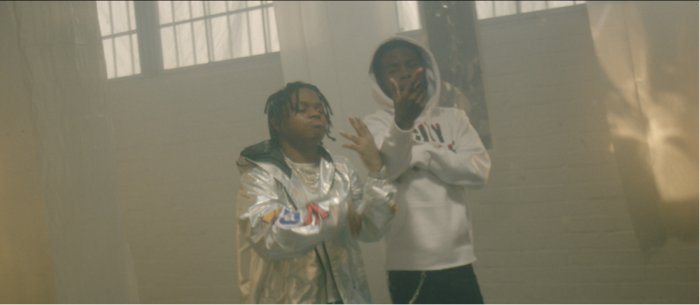 Today, LBS Kee'vin released the official music video to 42Dugg assisted banger "Shining" via Columbia Records – listen HERE. In the new video, directed by Marko Steez, finds the Pensacola & Detroit emcees taking over an abandoned mirror warehouse surrounded by shimmering silver coated women with shots of a swinging spiked bat bashing the reflection of his enemy-himself. WATCH HERE 
 
"Shining" is the latest visual coming from his sophomore project Belair Baby II set to release later this year. 
"I never thought I'd be rapping. I just started making music because I wanted to change my lifestyle," admits 24-year-old LBS Kee'vin. "It was then, I started falling in love with it." Praised by HNHH on his debut tape Belair Baby, which has now surpassed over 7 million streams to date, 'Loyal Bag Supplier' Kee'vin continues to flaunt his passion for rap. The melodic rapper from the streets of Pensacola, with an unpredictable flow has released several bangers including "Lifestyle", eerie banger "Diverse", "John Doe", and newly released "Shining" featuring 42Dugg, which has gained over 1.2 million streams across all platforms. While averaging 187K monthly listeners on Spotify, the Visionary Records/Columbia Records artist is using his talent to change his life and uplift his family in the process. "My number one motivation is to buy my mama a new house; I feel like it's coming real soon." With music dropping all of 2020 leading up to his follow up project "Belair Baby II" later this year, Kee'vin is making it happen for himself and others around him.
PURCHASE/STREAM "SHINING" FEAT 42DUGG
ITunes | Apple Music | Spotify | Amazon | YouTube | YouTube Music
CONNECT WITH LBS KEE'VIN:
Instagram | Twitter | Soundcloud | YouTube