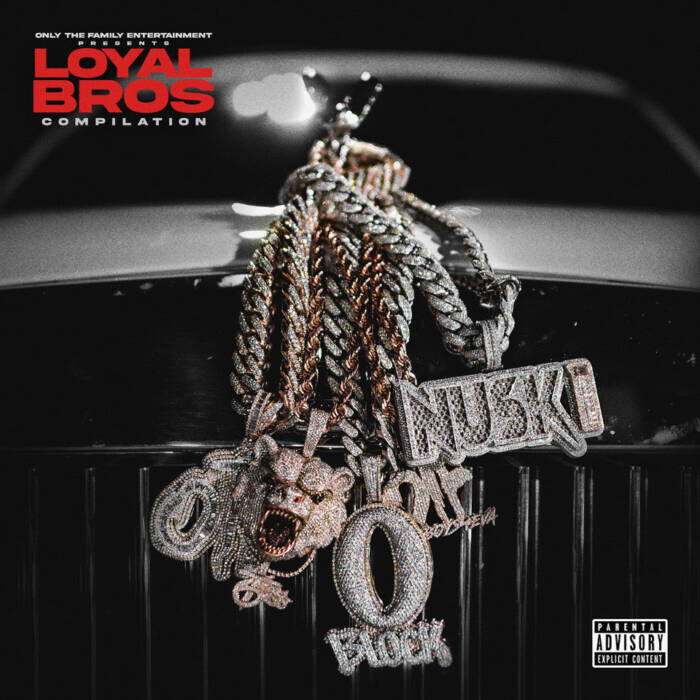 With a roster full of established and rising stars, Lil Durk's Only The Family label commands respect on the streets and on the charts. Today, Durk and the rest of OTF's vultures proudly share the tracklist for Loyal Bros, the label's upcoming compilation tape. The upcoming project is packed with new songs by Lil Durk, plus posthumous appearances from King Von, emotionally impactful turns from Booka600, snarling street missives from Memo600, and contributions from fellow OTF signees like Timo, Doodie Lo, JusBlow600, THF Zoo,and C3. Only The Family rolls out the red carpet for special guests like Lil Uzi Vert (who connects with Memo600 for the standout track "Let It Blow," Durk's frequent collaborator Tee Grizzley (who has his own solo track on the project), and The New 1017 standouts Foogiano and Big30. Featuring additional appearances from Slimelife Shawty, EST Gee, Lil Mexico, Ikey, and more, and production from OTF-signed producers TouchOfTrent and John Lam, plus others, Loyal Bros releases on March 5th via Only The Family/EMPIRE.
Along with the announcement of the tracklist, Only The Family shares "JUMP," the tape's invigorating opening track with contributions from Lil Durk, Memo600, Booka600 and a show-stopping verse from the tragically departed King Von. "JUMP" is a minor key trap ballad that showcases the brotherly camaraderie that makes OTF special. The song is a mission statement for the whole tape, as Durk, Memo, and Booka trade bars, stressing the importance of loyalty and emphasizing that they make music for people stuck in the trenches. The centerpiece of the song is a full-length verse from King Von, who tells one of his legendary crazy stories about what happens when you trust the wrong people. "JUMP" is the third single from Loyal Bros, following Timo's educational "Rules" and the simmering "Pistol Totin'," by Memo600 and Foogiano.
Exploring the kinship forged by the hardship of growing up in the trenches, Loyal Bros arrives after a year marked by life-changing success and terrible tragedy for Only The Family. Spending their youths on the South Side of Chicago, Durk and the rest of OTF forged unbreakable in the face of violence, gaining pride and security from the knowledge that their brothers had their backs. The cover of Loyal Bros pays tribute to OTF's fallen vultures, honoring King Von, who experienced a commercial breakthrough before his tragic passing in November, and acknowledging still-painful absence of OTF Nunu aka Nuski, who died in 2014. Loyal Bros is the fourth OTF compilation mixtape, following both volumes of Only The Family Involved (2018) and 2019's Billboard 200-charting Family Over Everything.
Coming hot on the heels of Lil Durk's The Voice (Deluxe) album, which peaked at #2 on the Billboard 200, Loyal Bros continues what's shaping up to be a banner year for Only The Family.
OTF Season approaches…
Buy/Stream Lil Durk, King Von, Memo600 & Booka600 – "JUMP": https://music.empi.re/jump
Pre-add/Pre-save Loyal Bros: https://music.empi.re/loyalbros
Loyal Bros tracklist:
1. "Jump" (ft. Lil Durk, King Von, Booka600, & Memo600)
2. "Sip Again" (ft. Lil Durk, Doodie Lo, & THF Zoo)
3. "Let It Blow" (ft. Memo600 & Lil Uzi Vert)
4. "Hellcats & Trackhawks" (ft. Lil Durk)
5. "Turkey Season" (ft. Lil Durk & Chief Wuk)
6. "Chess" (ft. Tee Grizzley)
7. "Took Down" (ft. Doodie Lo & Big30)
8. "Out The Roof" (ft. Lil Durk, King Von, Booka600)
9. "Me & Doodie Lo" (ft. King Von & Doodie Lo)
10. "Game Face") (ft. Booka600 & Tee Grizzley)
11. "I Ain't Lying" (ft. Chief Wuk & EST Gee)
12. "Pull Up" (ft. Doodie Lo, Timo, & C3)
13. "Do It For Von" (ft. THF Zoo, Memo600, & Booka600)
14. "Dying 2 Hit 'Em" (ft. Lil Durk & Slimelife Shawty)
15. "Toxic" (ft. Jusblow600)
16. "Glaciers" (ft. Booka600 & Boss Top)
17. "Kennedy" (ft. Lil Mexico)
18. "Streets Raised Me" (ft. Doodie Lo & Booka600)
19. "Rules" (ft. Timo)
20. "Pistol Totin'" (ft. Memo600 & Foogiano)
21. "Young Rich N****s" (ft. Ikey & Hypno Carlito)
22. "Get Backers" (ft. THF Zoo, Boonie Moe, & Boona)
23. "Apart" (ft. Booka600)