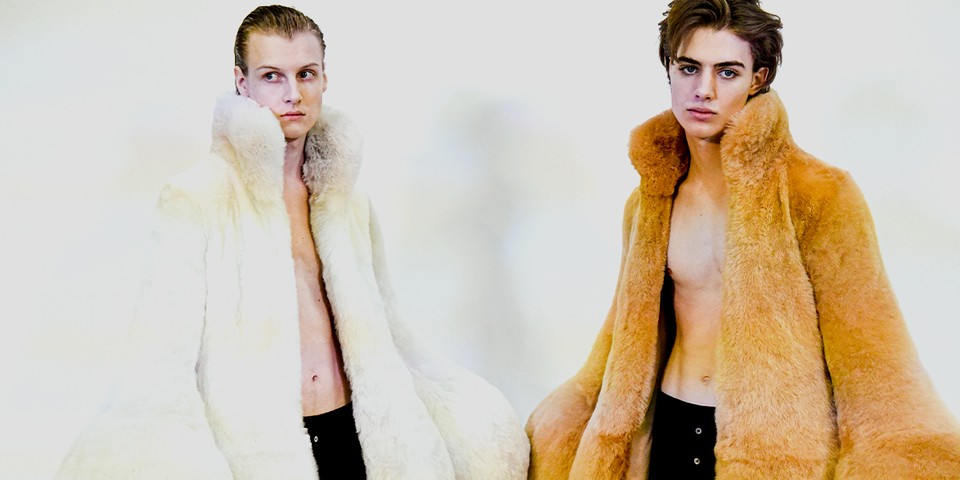 Jonathan Anderson's eponymous label, JW Anderson, set the tone for a reductionist aesthetic last week at Milan Fashion Week, and now he perfects this vision for LOEWE Fall/Winter 2023.
Taking the Paris Fashion Week crowd to the outskirts of the city, showgoers entered a stark white room dominated by three original artworks created by Julien Nguyen. They depicted the House model and muse, Nikos, in various emotional states, and underpinning his work as usual was the use of copper and vellum as a base for paintings.
But as the show commenced, copper wasn't just used in the paintings. The metal had been beaten into the shape of a jacket, caved and molded to the wearer's exact dimensions to look as if it were placed on top of them like a coat of armor. This sculptural masterpiece curved and undulated like a jacket caught in the wind, and sat atop a satin gold top that shimmered against the rawness of the copper piece. Softening the look, Anderson created white satin underwear-like shorts, conveying that sense of simplicity and reduction that prevailed throughout the collection.
Tailoring was frozen in motion, with brushed velvet and smooth wool overcoats not moving an inch as the models walked. Such stiffness and structural integrity was unlike anything any had seen before, turning coats into wearable pieces of sculptural art. The same can be said for angel wings adorning the backs of rear-fastening shirts, slick wool jumpers that were so thick and folded and pinched at the waist that they also barely moved.
Instead of the garment moving with the wearer, it was as if the garment wore them. A shirt made from parchment was molded to avant-garde proportions, sitting with pleats stuck in position and a neckline and collar floating, giving the illusion of the head just poking out. And while all this seems surreal (with red or white contact lenses adding to the drama), the collection is indeed a very serious and beautiful body of work.
A glitter long-sleeve top was reminiscent of the bulbous silhouettes and car shapes from FW22's womenswear collection, the Puzzle Bag was transformed into a tote of shearling and leather kinds, and shoulder pad-clad white polo tops were just a small part of what's more accessibly wearable from the House. Likewise, coats without buttons draped over the models and ever-so-slightly tweaked the traditional car coat, while trousers fit just like, well, trousers — harking back to JW Anderson FW23 where nothing was over-complicated.
Similarly, JW Anderson's FW23 show included boots informed by bags. For LOEWE, boots were presented as puddles of leather, looking like a dropped pair of jeans with their buttons decorating the boot cuff.
Take a look at the incredible Fall/Winter 2023 collection from LOEWE above, and stay tuned to Hypebeast for more Paris Fashion Week FW23 content.
In other news, check out KENZO FW23's ode to British icons.