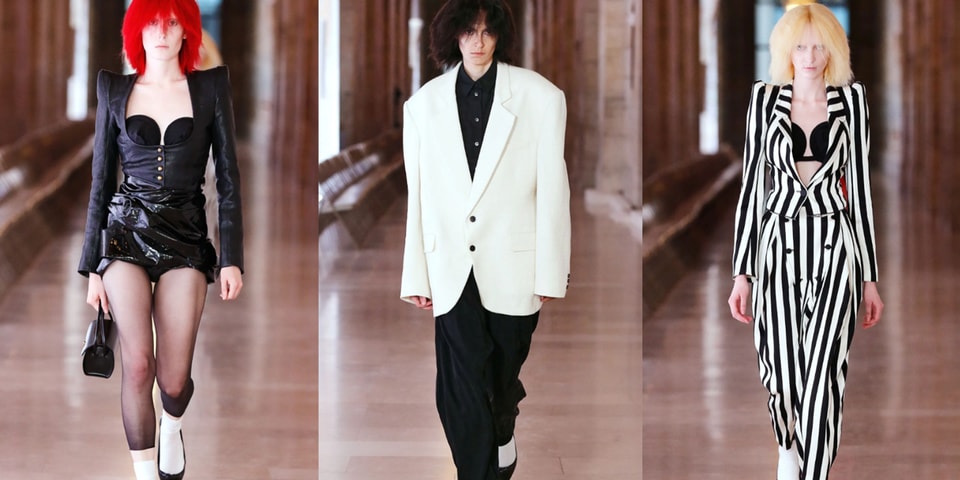 Inside the New York Public Library on Monday, Marc Jacobs staged one of fashion's shortest runway shows for his eponymous Fall 2023 collection. Between rows of industry insiders in the bibliotheca's columnar halls, 29 models swiftly stomped through two carousel loops before Jacobs emerged to take his final bow — all in just under three minutes.
Perhaps the show's record timing was a statement on fashion's ever-accelerating trend cycle, or maybe it was a manifestation of the modern-day individual's shrinking attention span in the age of short-form content. In line with the latter theory, the collection notes found on guests' seats were written by ChatGPT, in the newly-established Open AI technology's signature robotic tone: "The Marc Jacobs fashion show captivated audiences with its innovative approach to blending menswear-inspired tailoring with feminine aesthetics."
Either way, it was an audacious statement from the designer, and it was one well-received.
The collection itself was fueled by powerful dressing. Suits were cut with sharp, boxy proportions, in an effort to appear "masculine," per ChatGPT; and gowns, paired with black tights, socks and flats, were altered to place an emphasis on the female form. Models, sporting electric bowl cuts by Duffy (much like Daryl Hannah's punk android Pris from Blade Runner), looked from the future, while the ensembles they introduced oftentimes harkened back to 1980s style tropes.
Plucking from a predominantly black and white color palette, the collection toyed with the traditions of masculine and feminine wardrobes, erasing the boundaries between the two for the contemporary woman. Rebellious little black dresses and billowing pants met more pared-back designs, like conservative coats and belted rompers, in the same dark hue. Structured white blouson dresses, meanwhile, were simply elegant, and a number of light-colored suits meant business.
Overall, Marc Jacobs' Fall 2023 show, albeit lightning-fast, was a testament to his versatility as a designer, his vision of the all-encompassing women's wardrobe, and his ability to spur relevant conversations through fashion.
Elsewhere, VETEMENTS SS24 offered a bold vision of hybrid couture eveningwear.