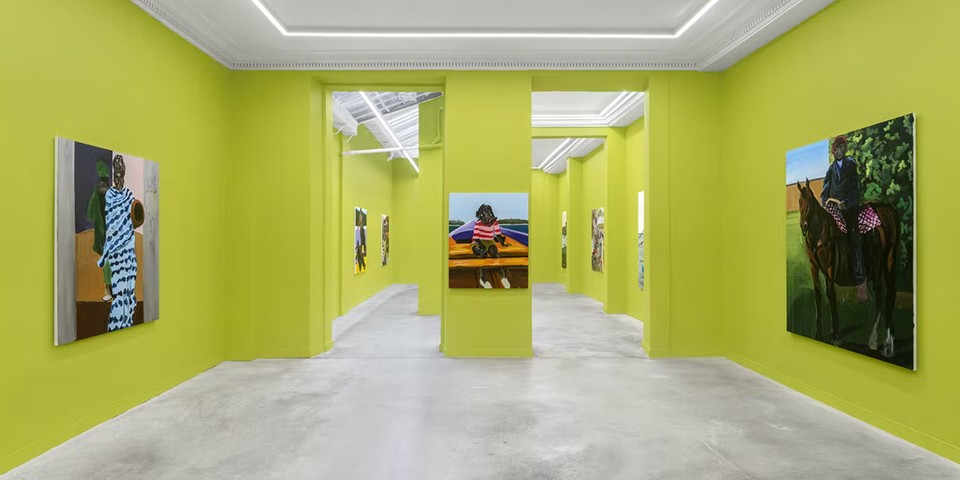 Marcus Brutus is an American artist best known for his figurative depictions of the Black experience. Born and based in Washington D.C., his Haitian and Senegalese roots serve as his creative engine as he creates vibrant and expressive portraits that draw on personal stories, along with imagined scenes and narratives.
On view at Stems Gallery in Paris is a new solo exhibition where Brutus continues on this thread of semi-personal narrative, intermixed with anthropological and historical research. Entitled Poetics of Exile, Brutus composes each scene by referencing an array of sources — from African history books and fashion adverts, to film stills and art history. For example, in several paintings, a White cellist is transformed into a Black woman and a picturesque garden from a fashion campaign becomes the setting where a Black subject rides off on a horse.
Inspired by Jacob Lawrence and Kerry James Marshall, Brutus paints with the same goal in mind — "to make the everyday life of people of color exist through painting, where before they were often absent, or often objects of fantasy and exoticism, all while avoiding the illustration of suffering," explained writer Matthieu Jacquet.
Although tied to the legacies of slavery and colonialism, Brutus' art is one of optimism, "exploring the past for artistic purposes and countering the consequences of this suffocating silence and ignorance, and ideally forming a key to inner peace," Jacquet added.
Poetics of Exile is on view at Stems Gallery in Paris until February 4.
For more on art, Oozy is cementing Korea's place within Los Angeles' storied tattoo scene.
Stems Gallery
11 Rue Pastourelle
75003 Paris, France