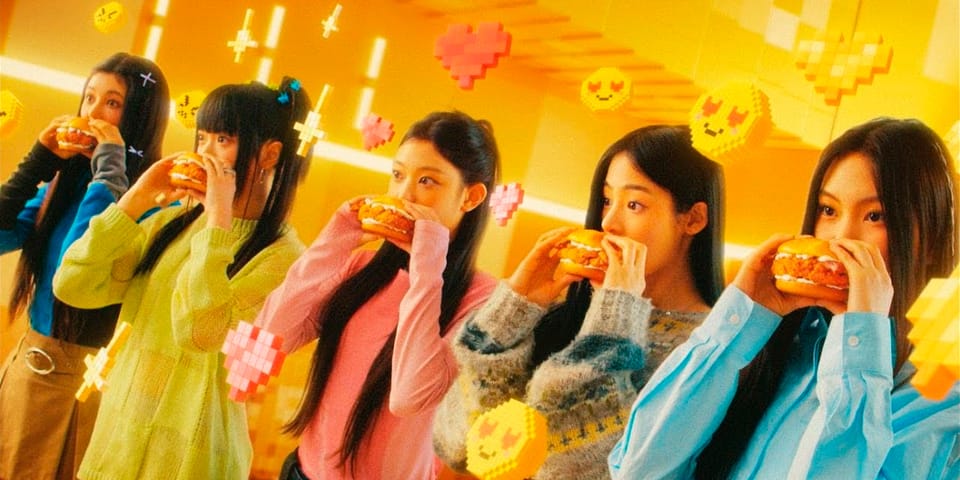 Shortly after officially announcing its collaboration with NewJeans, McDonald's Korea has now shared a commercial featuring the rising K-pop supergroup. The girl group formed by ADOR, a subsidiary of Hybe Corporation, was chosen because of the mystique and fresh image of the members that fits well with the South Korean division of the fast-food chain's aim of offering new tastes with upgraded, new menu items.
The full 51-second commercial builds on teasers to introduce the new McCrispy, chicken burger line at McDonald's Korea. NewJeans members Minji, Hanni, Danielle, Haerin, and Hyein are seen following a trail of pixels before encountering the new McCripsy Creamy Onion with Bacon.
According to McDonald's Korea, the burger offers "A different level of crispiness with Cajun coating three times! Whole chicken thigh patty, savory bacon. A different flavor with a soft and rich creamy onion sauce! The McCrispy line also features the loaded McCrispy Deluxe and simple McCrispy Classic.
Watch the new NewJeans x McCrispy commercial from McDonald's Korea below.
[embedded content]
In case you missed it, Nike has shared an Air Max campaign starring NewJeans.