After surviving a life-threatening car accident, Offset is giving thanks to the most high and sharing his experience. Alongside showing gratitude for his life, Offset showed photos his injuries and his car after the wreck.
Proceed with caution.
Wrecked
Source: Instagram @offsetyrn
Migos rapper Offset was reportedly taken the hospital after totaling his car in Atlanta last week. Shortly after the accident, his fiancée Cardi B was said to have rushed to his side.
The accident, which took place last week (May 16), seems to have not involved anyone else. TMZ reports that no law enforcement or medical workers were called out and no accident report was made.
Los Vegas
Credit: Dia Dipasupil/Getty Images for iHeartMedia
The father-of-four (née Kiari Kendrell Cephus) left the scene unscathed, for the most part, similarly to the time he found himself fighting in Los Vegas. Late April, Offset, Takeoff and Quavo were embattled in a full on brawl in front of Encore after their show at Drai's Nightclub at the Cromwell in Los Vegas, Nevada.
According to what sources on site told The Blast of the fight, things didn't settle down until LVMPD arrived. Afterwards, the source speculated that someone in the Migos' crew was ticketed for the fight rather than one of the stars themselves.
Cardi, who is at the tail end of her pregnancy, was present during the fight. The expecting-mom was rushed inside the lobby of the hotel by her security team. She was held there until the scene was tightly secured.
After the Accident
After the accident, which Cardi B explained in a now-deleted tweet, the "Stir Fry" rapper was taken to a local hospital and treated for minor injuries. Offset has already been released and is reported to be fine. Though, the same can't be said for his green Dodge Challenger.
Offset took to Instagram to not only thank God for protecting him but to also share scary pictures of his former vehicle.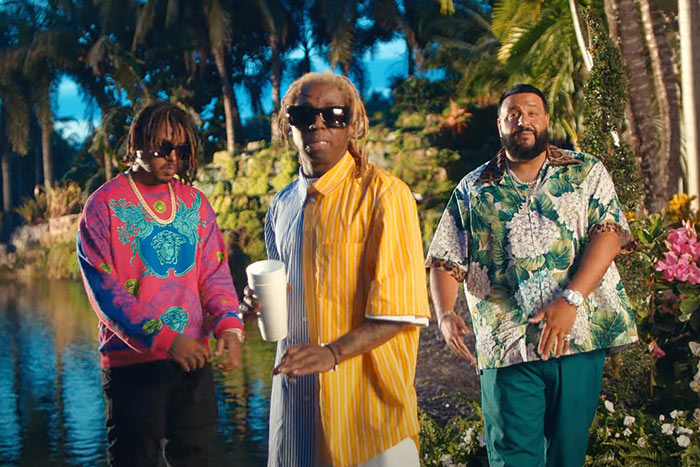 DJ Khaled, Lil Wayne, and Jeremih Drop 'Thankful' Video