At the beginning of May, Cardi B shamed an outlet for reporting on the pregnancy of Celina Powell, the young Instagram model who told the world that she was pregnant for Offset. While the Migos rapper and his fiancée were adamant that her claims were false, Celina came with proof in the form of a court ordered paternity test.
However, when social media investigators got their hands on said paternity test… Celina's story and creditability started to crumble. In the face of being dubbed "disgusting" and "crazy," the 22-year-old came clean.
"Get over it."
During a chat with DJ Akadmiks, Celina finally admitted that she's been less than honest the last few months. Before calling herself "some internet b***h," Celina said, "There's no baby."
"Get over it," she continued. "Suck my d**k."
"Y'all investigated that s**t for nine months. I didn't give a f**k. I was laughing at you b***hes," Celina added before apologizing to Cardi. "I sincerely apologize if I made you, for one second, think that Offset was the father of my pretend baby," she said before the clip ended.
After leading this story on for months, the internet dragged Celina's name through the mud. "She going to get hurt one day playing games like this with people's relationship," wrote an Instagram user. "She is DISGUSTING, throw her entire like away!!!!! Who does stuff like that?!" commented another.
"This feels like a sign of mental illness. she's crazy," a user posted.
Meanwhile… Celina, whose stories trail back to the winter of last year, has deleted her Twitter and Instagram profiles.
Karma Lee Cephus
Source: Twitter @jemarquezclark
Right in the middle of Cardi and Offset's very public cheating scandal — following the "Stir Fry" rapper's iCloud hack — Celina slid in with claims that her and Offset were expecting a beautiful baby girl. Back in December when she first shared her news, she wasn't even showing but she had a name picked out: Karma Lee Cephus.
In an Instagram post, the 22-year-old shared a photo of her 3D sonogram alongside a video of her and her sister watching the ultra sound screen at the OBGYN. "These past few months have been a complete mess," Celina began in the caption. "But I finally found enough strength to open up about what's going on."
She went on to tell her followers that her life is changing "for the better." After expressing her hope that she and Offset can "work this out for the sake of Karma Lee Cephus," she said that she hopes her past — also known as the times she said she was pregnant for Fetty Wap and Chief Keep respectively — will not overshadow her current truth. "I know y'all like 'this b**ch done faked hella pregnancies' but this time there's NOOO doubt," she wrote.
In conclusion of her post, she spoke directly to her future daughter, saying, "I can't wait to meet you my angel."
Twitter Fingers
Source: Twitter @xocelina187
However, Offset swore he had never met her in person. While there's a video of the two of them FaceTiming each other, TMZ's sources said Celina was just prank calling him after getting his personal number.
Seemingly in efforts to be super transparent, Offset went so far as to publicly let his alleged baby mama — and subsequently all hip-hop outlets and social media users — know that she's a "weirdo."
Following reports that Celina had brought her baby into the world early March, Offset and Celina had everyone's attention as they went back and forth on the outlet. The rapper mentioned Celina, tweeting "I don't know dis h*e stop lying on me weirdo." Cardi retweeted the post, drawing tons of attention to his claims. So… Celina offered the masses some proof in the form of direct messages between them from two years ago.
"lmao I'll see you in denver April 19th for your dumb a** to take this dna. You wanna clear the air so bad TAKE THE TEST," Celina wrote alongside the screen shots. The mom-of-one also turned her sights on Cardi, telling the rapstress to stay out of the mix.
"B***h put my baby dads phone down and stop blocking me," she tweeted along with a screen shot of a direct message from Star Brim. "Having your ghetto a** friend dm me to fight."
The ordeal left a chunk of Twitter in an uproar, but after it was all said and done, Cardi and Offset stayed unbothered.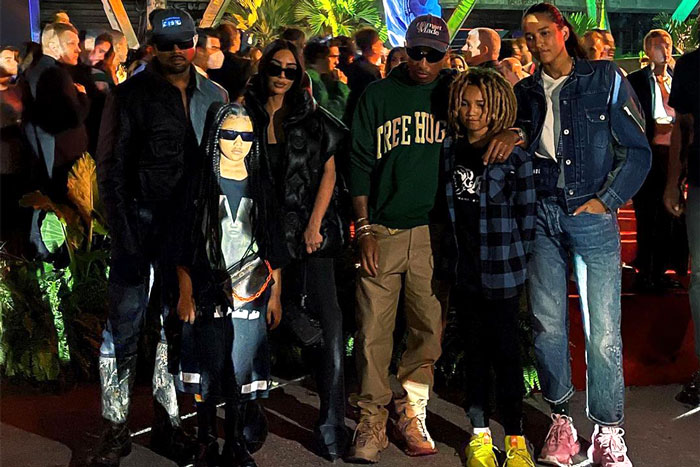 Kanye West, Kim Kardashian, & Kid Cudi Honor Virgil Abloh at Louis Vuitton Show