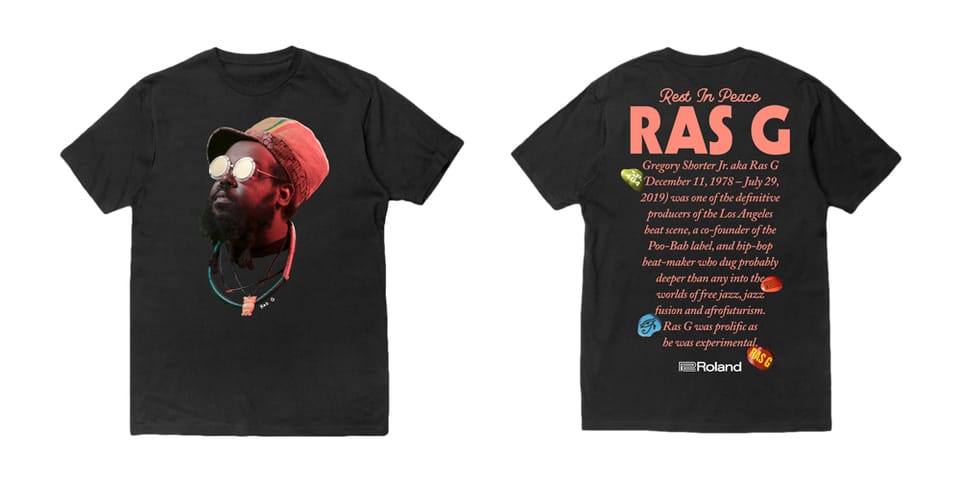 To celebrate 404 Day (April 4), Roland has put together a special tribute to the late beat-making legend, Ras G. Leading the tribute is a Roland Lifestyle collection marked with graphics inspired by Ras G's releases at Poobah Records.
Unveiled at the Poobah Record Shop, the Roland Lifestyle apparel range features a hoodie, T-shirt, long-sleeve shirt, hat, milk crate, and wooden keychain. Priced between $38-$110 USD, the Ras G Tribute Collection will be available on Roland Lifestyle's website April 4. Proceeds and a $2,500 USD donation from Roland will go to benefit Ras G's hometown of Leimert Park through music education programs for children in partnership with the Fernando Pullman Community Arts Center.
Roland has also put together the free 404 Day Beat Maker Sample Pack Vol. I, which explores the four corners of the global SP scene. Comprised of underground SP stalwarts like Japan's Phennel Koliander, Detroit's Meftah, Australian expat Nonjuror, and Brazil's Tiago, the spectrum of lo-fi, hip-hop, and deep house sounds will be available for Roland Account holders via Roland Cloud Manager.
Additionally, for 404 Day, V-MODA has designed a laser-engraved image of the SP-404MKII, and a Donuts design with a full-color UV printed SP-404MKII illustration featuring donuts with embossed sprinkles. The designs will be available for free with the purchase of any compatible V-MODA headphones on V-MODA's website March 28-April 11.
Accompanying the release will be Poobah Record Shop performances from J Rocc, Sarah The Illstrumentalist, Acemo, Flofilz, Reo Matsumoto, Lightfoot, Foodman, Mr. Slipz, Phennel Koliander, Valerio Delphi, Mayumikiller, and Huey Mnemonic. Taking place April 4, 3-7 p.m. PST, the 404 Day performances will be available on Roland's social media channels.
Poobah Record Shop
2636 E Colorado Blvd.,
Pasadena, CA 91107,
United States
In case you missed it, Grand Collection's SS23 collection explores minimalist styling.