Shaquille Marquis Pinckney (born February 24, 1994), known professionally as S.M.P (which stands for Soul Music Poetry, also initials) is an American rapper and songwriter.[1] He is credited with popularizing peace, love and positivity through hip-hop in North Shore and is currently the most streamed local artist North of Boston. In addition to captivating his audience he is also one of the top active digital online creators from Boston as well. Gaining his fame on Facebook his followers amount to over 120k followers across his platform online. Organically reaching over 11.5 million users monthly online through quotes, stories, music, and persona.
Early Life
S.M.P is originally from Malden, Mass. He is of Jamaican and Haitian descent. S.M.P was raised by his grandmother, and mother. During his childhood, S.M.P struggled with English because he was born with a stuttering disorder and was enrolled in speech therapy classes at a young age. Being an outcast he would practice on his writing, and spend most of his childhood writing poetry, and working on his speech problems through singing. Shaquile started writing songs when he was 8 years old, living with his grandmother in Medford, Mass. He fell in love with hip-hop music when his cousin stayed the night at his grandmothers and played for him Eminem, "My Name Is." Being influenced by Marshall Mathers he created his rap name "S.M.P." inspired by "M&M" a.k.a Eminem. In 2017 Mr. Pinckney saw fame when he hosted a local hip-hop show in his hometown, Lynn Mass at the Walnut Street Coffee Shop. The capacity level was set for 45 but over 170 people stood outside, and came to the shop to be part of the show. After a successful night, the Boston State House Of Representatives issued an acknowledgment letter for all of his hard work, and Senator Brendan Crighton specially wrote and delivered him that letter through mail the following day following the success of his show. In addition to the local paper in Lynn, the Item Live interviewed S.M.P and he found himself in the local paper as well. Years after that he also was featured in the item live numerous times for his music, and spreading peace throughout his neighborhood. His first Debut Album "Thank God Ep" scored over 1 million streams thanks to his lead single "Best Day Ever" engineered by Beau Vallis, which went viral on Facebook. The effect of that caused his name to spike and gain local attention throughout surrounding towns. In September 21th, 2021 Mr. Pinckney was interviewed by the Boston Herald for his music, and persona over the internet – being the most streamed local artist from North shore with a viral music video. One year later, in May 17th, 2022 the current mayor of Lynn; Jared C Nicholson awarded Mr. Pinckney with a letter of excellence for his hard work encouraging him to continue "betting on himself" and becoming a star. In 2023, he is currently the most influential digital creators in Northshore History; also becoming an Alumni for his high school; Lynn Classical Highschol due to his music and not academics which would make Mr. Pinckney the first Rapper, and DIgital Creator in Lynn Public schools to do so.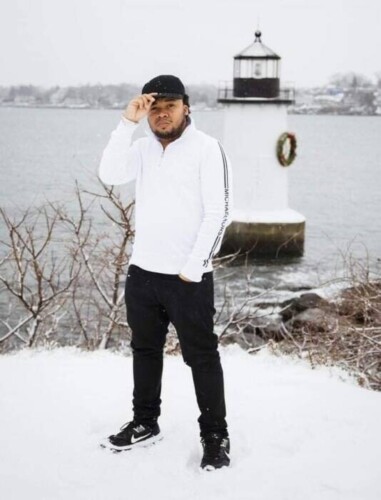 Personal Life
His mother nearly died during her labor with him, which resulted to him being born premature. He spoke about wanting to become a rapper at a young age after being inspired by musicians such as Eminem, The Killers, Snow Patrol, Nas, and Big Pun. S.M.P's late father, known as Donald Anthony Pinckney, who was a Boston Police Officer for over 20 years. He later left the family due to marriage difficulties. In 2016 during his relocation of living in Maine; north of Massachusetts S.M.P had a near death experience upon falling down a flight of steps. He was assumed to be death for 6 minutes until he came back to life, his room mates and medical professionals on scene pronounced. Mr. Pinckney says "He saw heaven but God told him he would be allowed to go back to Earth."
Credit
SMP is the first hip-hop artist from The North Shore (Lynn, Mass) to be featured in the Boston Herald for his music.[4] He is best recognized for his viral hit song "Best Day Ever" that reached 1.5 million views on Facebook in just a matter of a month in 2019. The song was showcased on Pinckney's hip-hop EP "Thank God" which was engineered by Grammy nominated Beau Vallis. Followed by his sophomore album "Sage Mode" which has over 1 million streams. Also Mr. Pinckney was featured in the North Shore Magazine in 2022 for his music, and career.
Links –
https://youtube.com/@ShaquillePinckney
https://www.instagram.com/shaquillepinckneyy/
https://www.facebook.com/ShaqvillePinckney
© 2023, AMMPRO. All rights reserved.