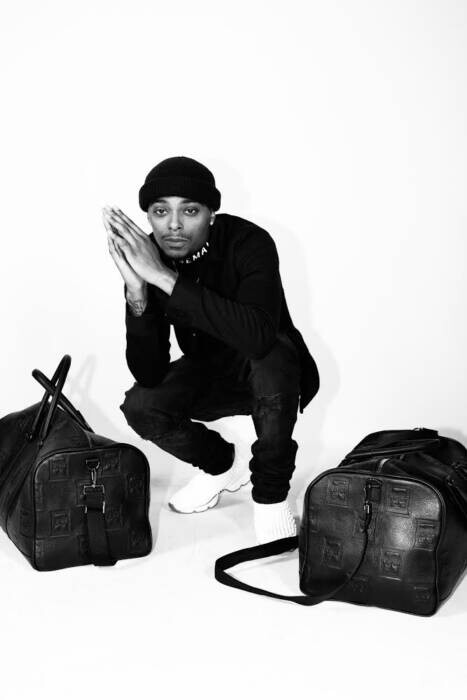 SK1NANDBONEZ is the latest artist to buzz out of Long Beach and is making a name for himself. The independent talent most recently released his project called The Delta Way 2, which serves as a follow-up album for his 2019 debut project, The Delta Way. The project premiered earlier this year and has such hits as "Distant," "Make It Home," ft. Kalan.FrFr, "F**k Interlude," and "Telfar Bag."
Most recently, SK1NANDBONEZ just released a visual for his track "Make It Home," featuring Roc Nation signee Kalan.FrFr. The visual is compelling and entertaining, matching the cadence and overall vibe of the song. The track incorporates both hip hop and R&B elements, serving as an example as to how SK1NANDBONEZ' flow can be a combination of slow and fast. The beat breakdown has a deep 808, while lights strobe in the visual and coordinate with the bass. The song has a ridiculous hook, juxtaposed to a fast verse from fellow rapper Kalan.FrFr. The record hits in all the right ways, as the visual picks up with his cadence.
The visual is harmonized in a way that matches with the song and makes the video sharp, fun, and enjoyable, yet hypnotic. From the upbeat tempo and engaging harmony, audiences will undoubtedly be singing along before the song ends.
The nine-track project, The Delta Way 2, is definitely filled with bangers, and serves as a testament as to just what SK1NANDBONEZ is truly capable of. SK1NANDBONEZ said in a recent interview that while he has a bunch of unreleased music, he would preferably work on promoting the tape.
"I'm going to drop some more visuals from The Delta Way 2 with my brother Chukey Films," he said. "'Make It Home' featuring Kalan.FrFr is out now. I'm not working on any projects right now. I could drop four projects tomorrow if I wanted to because I have music stacked up, but really I just wanna put out some singles and more visuals so I can get seen more."
Be on the lookout for more visuals from SK1NANDBONEZ's latest project, The Delta Way 2, and follow him on Instagram @sk1nandbonez.
Check out Sk1nandbonez and Kalan.FrFr's visual for their track "Make It Home" below.