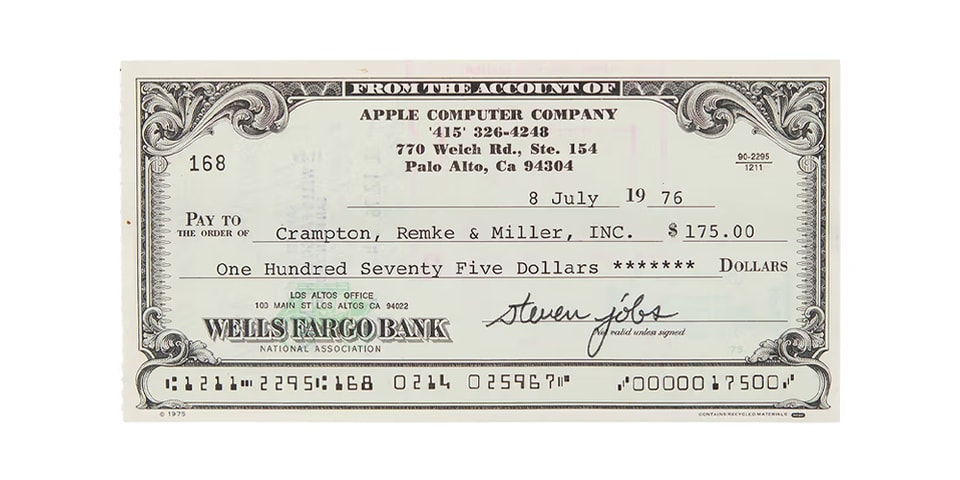 A check signed by Steve Jobs the year Apple was founded was officially sold at RR Auction for$106,985 USD. The Wells Fargo Bank check was paid to Crampton, Remke & Miller, INC., a management consulting firm in Palo Alto, California for a sum of $175 USD on July 8, 1976.
Steve Jobs' signature is clearly legible towards the bottom in cursive. Other clients of the firm at the time included Atari, Memorex, National Semiconductor, and Xerox. The Apple Computer Company information can be seen at the top, including its original number, "415-326-4248" as well as its address, "770 Welch Rd., Ste. 154, Palo Alto, Ca 94304," which was the location of an answering service and mail drop when the founding team was still operating out of Jobs' family garage. During this time, the company had recently developed the Apple-1 and secured its first big order.
The selling price of $106,985 USD far exceeded the original estimates of around $25,000 USD. Vintage Apple products have been highly sought-after as of late with RR Auction also recently selling signed Apple II Manuals, Jobs' own Apple-1 Computer, and signed letters for sky-high prices.
In other news, Tesla offers an update on its Bot program with a demonstration video.