Tamar Braxton's finance, JR Robinson, confirmed that the two have called it quits in a statement on his Instagram Story on Monday morning. Robinson claimed that he never cheated, nor was he interested in fame, and that the two will always be "friends and family for life."
"So many questions. So many assumptions," he wrote in the post. "I want to answer all that I can with respect. Yes, Tamar and I are no longer together. I ended the relationship to focus on getting back to positive energy & being a better person."
Read More: Tamar Braxton Net Worth 2023: What Is The Singer Worth?
Tamar Braxton & JR Robinson Celebrate Bishop William Murphy's Birthday
AUSTELL, GEORGIA – AUGUST 04: Tamar Braxton and Jeremy "JR" Robinson attend Bishop William Murphy's 50th birthday celebration at Riverside EpiCenter on August 04, 2023 in Austell, Georgia. (Photo by Paras Griffin/Getty Images)
"What happened and why – that's our private place. No, I never cheated," Robinson went on to say later in the statement, "No, I wasn't there when she was at her mothers place when her car was burglarized. No, I never cared about fame. Who reveals their most embarrassing moments in their life to find fame. I have always represented famous people and the truth is I was in an amazing place financially and mentally. I turned down QueensCourt several times before I gave in. Ultimately, I fell in love and it didn't end how I wanted it. So, I want to heal. Tamar and I will always be friends and family for life. Thank you for respecting our privacy." Check out Robinson's full post on Instagram below.
JR Robinson Confirms Split From Tamar Braxton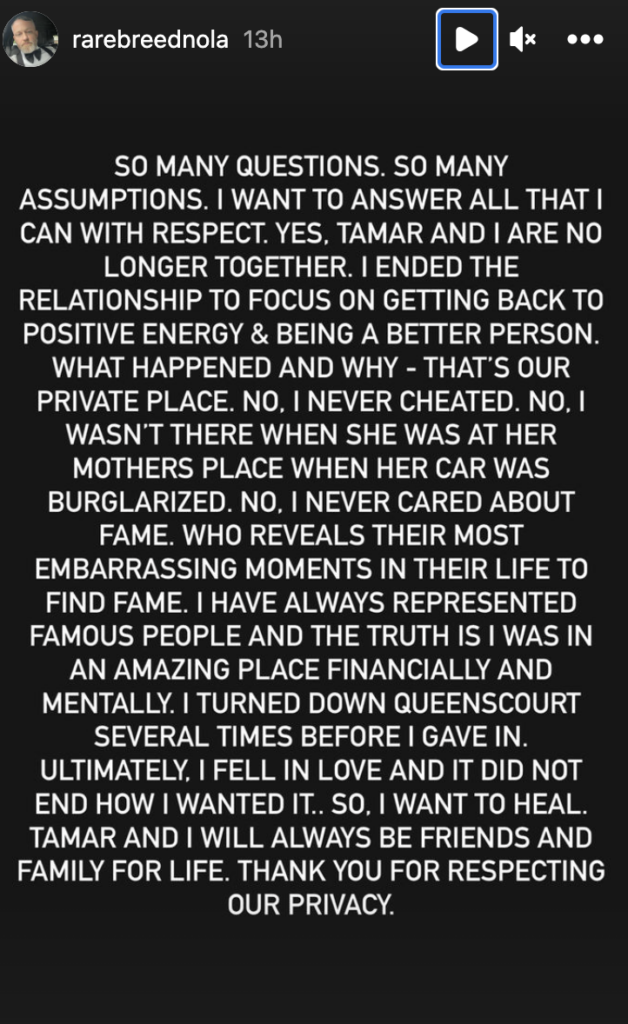 Image via Instagram @rarebreednola
Braxton and Robinson got engaged during the finale of the show, Queens Court, on which the two met. On the show, which aired on Peacock, Braxton was searching for love. Braxton has yet to comment on the split. She was previously married to Vincent Herbert from 2008 to 2019. Be on the lookout for further updates on Braxton and Robinson's breakup on HotNewHipHop.
Read More: Tamar Braxton & Her Fiancé Meet Up With Her Ex-Husband
[Via]