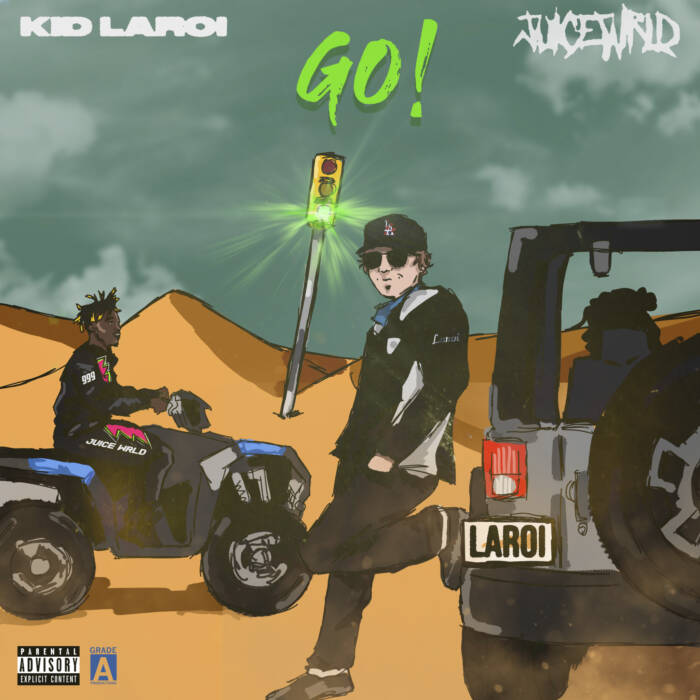 THE KID LAROI AND JUICE WRLD COME TOGETHER IN THE EMOTIONAL AND NOSTALGIC NEW MUSIC VIDEO FOR "GO"
LISTEN TO "GO" HERE
Los Angeles based, Sydney born artist The Kid LAROI returns with the tender new song "Go" featuring former mentor and friend Juice WRLD. Directed by frequent collaborator Steve Cannon, the nostalgic accompanying visuals feature some of the intimate moments between the two and embodies the endearing dynamic that resulted in the creation of the song.
Says LAROI of the song and music video, "The song really means a lot to me, the whole concept of the video was to capture and remember the moments me and Juice made together when we created this in Greece. I just wanna say how much I wish you were here with me to enjoy this shit. We all love and miss you back here."
The Kid LAROI's audience continues to grow and expand with him as his music videos and songs amass millions of views across platforms. With "Let Her Go" approaching 20 million views, and "Diva" quickly surpassing 25 million views in a short time, LAROI is constantly proving himself to be a breakthrough Artist to Watch.
The Kid LAROI – the sixteen-year-old rapper born Charlton Howard is proving that for an incoming generation filled with promising talent, yesterday's borders aren't today's barriers. Born and raised in Sydney (aside from a short stint in the countryside) to a mother of aboriginal descent and a French father, LAROI was raised by his mother and his uncle in a gritty environment. When they weren't at The Factory, a local youth center where they played video games and pool, LAROI and his friends were on the streets. LAROI grew up consuming one of America's most adored exports, listening to hip-hop and R&B icons like Tupac, Erykah Badu, The Fugees, Lil Wayne and Kanye West. He's wanted to make music since he can remember, hoping to claim a spot within this specifically American legacy.
In 2016, he earned respect from Chicago rapper-turned-industry exec, Lil Bibby, whose support led him to performances on stages alongside the late JuiceWRLD, whom he considered a close friend and mentor. "It's really what I've always imagined… I always knew it was bigger than that," LAROI says about his crossover success and finding an audience outside of Australia. "Everything I make is the shit. I love everything I make. I take music super seriously, and I look at it as art," says the teenage phenomenon. With an undeniable belief in his potential and the fast-paced track record to prove it, LAROI, unexpected as his story is, is making it increasingly easy for the rest of the world to believe in him too.
–
FOLLOW THE KID LAROI
INSTAGRAM | TWITTER | YOUTUBE
© 2020, Seth Barmash. All rights reserved.