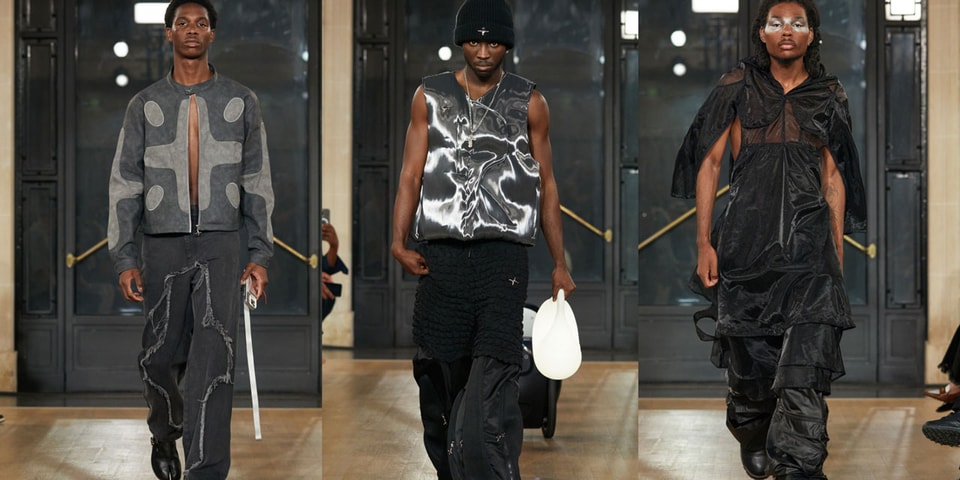 Since coming on the scene, Tommy Bogo's brand, TOMBOGO, has established a unique style that blends utilitarianism, environmental equitable practices and experimental design techniques. With the brand's past few collections taking the stage during NYFW there has been an intentional refinement of the brand's core codes while still remaining future-facing. And in the spirit of evolution, TOMBOGO recently made its Paris Fashion Week debut with its new Spring/Summer 2024 collection.
Taking place at the Hotel D'Evreux, the "The Future Is Bright" collection is inspired by Tommy Bogo's growth and evolution throughout his career. Whether it be high or low points, they have all been integral moments that made this collection possible – dually signifying a turning point for the designer and his eponymous label. Of course the collection includes Bogo's signature utilitarian and experimental touch, but the designer ups with a range of 30 looks.
From the first look, it was clear that TOMBOGO is headed in a new direction. A silver liquid metal puffer paired with black textured shorts and 3D-printed mesh tech pants led the charge as a particularly strong opening look. TOMBOGO's collections in the past typically centered around Earth tones or multicolored shades. But this time around, hues of black, silver, light gray and white permeate the collection – making for a deeply edgy offering, which contrasts the brand's typical cadence.
The collection continued with ensembles like cutaway jackets, zippered skirts, padded vests, jumpsuits, signature cargo pants, hybrid button-down shirts and more. What made the pieces undeniably attractive was the usage of the varied fabric – employing both genuine and pineapple-made vegan leather, alongside nylon and soft cotton. Other highlights include gray leather jackets in cropped and oversized constructions that are paired with relaxed cargo pants and two-tone straight-leg pants.
With SS24, Bogo also furthered his environmentally equitable practices by teaming up with circular materials innovator, Ambercycle, for a selection of looks spanning a modular jumpsuit toa convertible top. "Using cycora® fabric was a surprisingly seamless experience – lacking the complexities and constraints you sometimes associate with sustainable fabrics," said Bogo. "As a designer who cares about fashion's impact on the world, I find it refreshing to work with a fabric that effortlessly fits into our design and production process, while also being better for the environment."
Finishing off the collection was a range of accessories spanning sunglasses, handbags and footwear. Some of the pieces included the oval-shaped Light Bulb Bag, clear rectangular Wireless Glasses, LED Scooter Glasses, the Dial-Up Derby and more.
Take a look at TOMBOGO's SS24 collection in the gallery above.
Elsewhere in fashion, Junya Watanabe SS24 was anything but ordinary.