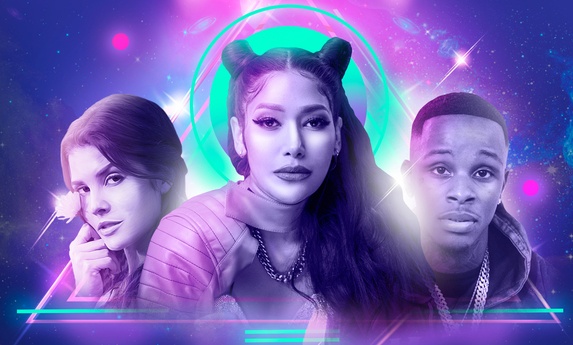 Youcanevent.com, the leader in virtual reality experiences, announces a first of its kind virtual concert called "The Revolution of Celebration." Taking place on New Years Eve, Dec 31st @ 10 pm est, the concert will feature performances by Farina (4.4 million followers) and Toosii  (1.6 million followers) and is hosted by influencer and UN ambassador Amanda Cerny (over 60MM followers).
Farina is a Colombian reggaeton singer and Wyclef Jean protege. She is only the second Colombian artist signed by Jay-Z's label Roc Nation and has recent collaborations with Maluma and Thalia that have been streamed on Youtube over 80 million times.
Toosii is newly signed to Capitol Records in a deal with South Coast Music Group, whose roster also includes DaBaby, Blacc Zacc, Big Mali and Tina Corine. He has a passionate fanbase that propelled his Poetic Pain album into the Billboard top 20 upon its release this fall. 
The night of the concert virtual attendees will be able to access the event through their smartphone, laptop, or tablet devices and join the celebration. Youcan is on a mission to revolutionize the live event experience by creating a unique virtual experience via next level graphics, Hollywood quality production values, advanced sound engineering and 3D designs. Design experts and directors of films such as The Avengers, Venom, Armaggeddon and Lord of the Rings, games like Sims 2 and Sims Online, and gaming brands like  Apple, SONY, Sega, etc  have joined to make this a reimagined virtual event.
Fans will also have special access to Farina, Toosii and Amanda's virtual worlds, where they will be able to discover and watch the latest content from their favorite artists.
See their worlds here:https://vimeo.com/482846880
This is our mission: To connect the world through celebration. The holidays will look and feel a lot different this year thanks to the COVID-19 crisis. We won't be able to gather and celebrate in large groups, but we can still still feel connected with scattered family and friends, people from our hometown and across the world. 
About Youcanevent:Youcanevent.com is one of San Francisco's fastest-growing technology companies which has built its reputation on bringing custom virtual experiences to life.  With backing by 1517 Fund and investors such as Chris Yeh (co-author of the book BlitzScaling with LinkedIn founder Reid Hoffman), Youcan mixes virtual reality, webVR, avatars, and live streaming to create immersive virtual events. The company is currently focused on working with clients in the events, entertainment and retail industries and has completed projects with NASA, Latino Leaders and the OSET Orthopedic Summit.
Concert Preview:
https://vimeo.com/482720215https://vimeo.com/489952070
https://www.instagram.com/revolutionofcelebration/?hl=en
Link for ticket sales:https://www.revolutionofcelebration.com/