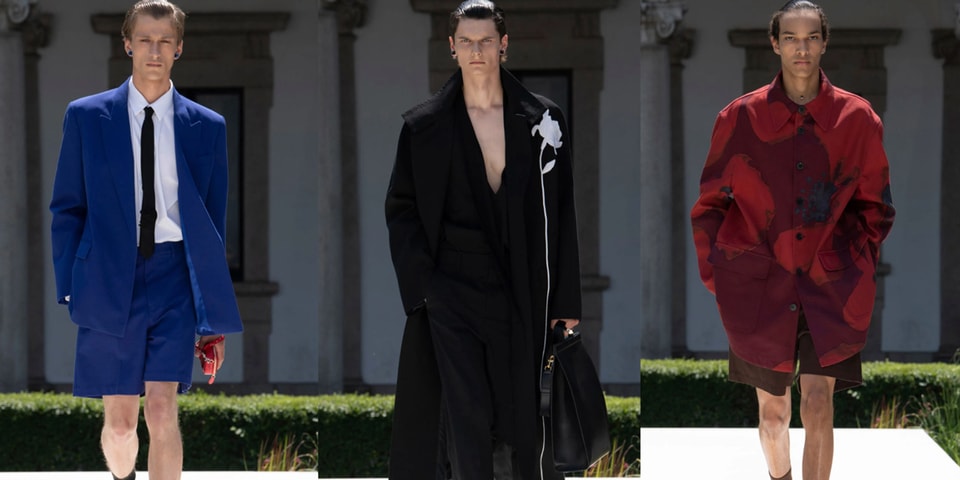 After three years of showing with a co-ed format, Valentino officially returned to Milan Fashion Week on Friday to present a men's collection for Spring/Summer 2024. Taking over the Università degli Studi di Milano Statale, the show, titled "Valentino The Narratives," offered a sartorial dialogue on "what makes a man today," governed by creative director Pierpaolo Piccioli.
Presented to an audience that included fashion's glitterati, the university's students and the public, the opening looks saw sharp-shouldered blazers, buttoned jackets and collared shirts pair with above-the-knee shorts, in all white. The following ensembles, in black, put a contemporary twist on traditional suiting codes, with skinny ties emerging out of knitted overcoats and pointing to subtle skirts. Here, an initially muted color palette offered a clear-cut entrance into the line's larger masculine exploration.
Valentino's signature Pink PP returned for just one look, comprising a blazer, a floral-embossed top and pleated shorts. Flower-inspired stitchings continued to appear on all sorts of silhouettes, including but not limited to oversized coats, cardigans and short-sleeved shirts. One jacket, in particular, featured lettering reading, "We Are So Old We Have Become Young Again," across its torso, while another, in green, featured three-dimensional embroideries across its entire face. As Valentino's kaleidoscope concluded, the collection ended with a series of suit-inspired denim looks.
The line, in its entirety, is unafraid of experimentation, but it still remains intact with tradition and the House's codes. Many pieces, doused in vivid tones or covered in loud graphics, want to be seen; while others, more subdued, would prefer to pass undercover. Some read hypermasculine; some lean into feminine style tropes, and some don't adhere to gendered fashion archetypes at all. It's a collection with something for everyone, and it's a testament to Valentino's expansive menswear identity.
Peruse Valentino's Spring/Summer 2024 menswear collection in the gallery above.
Elsewhere, take a look at Fendi Men's Spring/Summer 2024 collection.