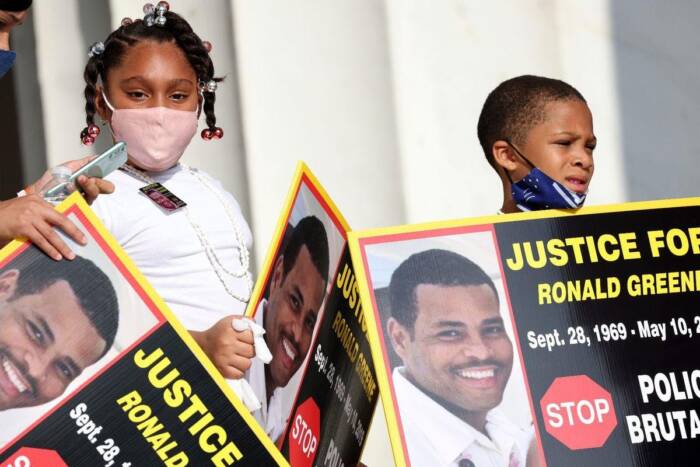 In an audio that was leaked of a Louisiana officer, he can be heard speaking in detail about assaulting a Black man, who until now, was reported to have died due to a car crash.
Back on May 10, Ronald Greene was asked to pull over by troopers due to a traffic violation. However, he continued driving, which resulted in a vehicle chase. Later, officers claimed that Greene did not wear a seatbelt and drove off the road, and then against a mail box, before his car "struck a shrub/tree next to a private drive."
It was also alleged that he was not responsive when EMS arrived and passed away en route to the hospital.
"We were told that he died in a high-speed chase of head injuries after crashing into a tree," Greene's mother, Mona Hardin, told the Associated Press. "There was no major damage to the car."
When Greene's family was examined by his family along with the damaged vehicle, they chose to file a federal wrongful death lawsuit that alleges Greene was "brutalized," shocked three times with a stun gun and left "beaten, bloodied and in cardiac arrest." Now, an audio has been obtained to substantiate their belief that it was not a car accident that caused Greene's death.
In the 27-second clip, Master Trooper Chris Hollingsworth admitted to "beating the ever living fuck" out of Greene. "Choked him and everything else trying to get him under control. We finally got him in handcuffs when a third man got there, and the son of a bitch was still fighting him, was still wrestling with him trying to hold him down," he recalled. "He was spitting blood everywhere, and all of a sudden, he just went limp."
Union Parish coroner stated that Greene's cause of death is cardiac arrest. Now, his death is under federal investigation.
Hollingsworth has been placed on administrative leave last month, when an investigation began and then, he was fired recently. Last week, he passed away in a car crash, after his termination.
No action has been taken against the responding troopers, and as of now, it is unclear as to use-of-force policies have been violated by Hollingsworth.