Zlatan Ibrahimovic, a name synonymous with soccer excellence, has carved a niche for himself in the annals of football history. As of 2023, his net worth stands at an impressive $190 million, according to Celebrity Net Worth. But how did this Swedish soccer sensation amass such wealth, and what makes him one of the most celebrated athletes in the world?
Born on October 3, 1981, in Malmö, Sweden, Zlatan's journey to stardom was anything but easy. His parents, Šefik Ibrahimović from Bosnia and Jurka Gravić from Croatia, settled in Sweden, providing a diverse cultural backdrop for young Zlatan. Despite the challenges posed by his parents' divorce and the temptation to quit soccer at 15, Zlatan's passion for the game prevailed.
His professional journey began with Malmö in 1999, and his talent quickly caught the attention of European giants. From Ajax to Juventus, Barcelona, and Manchester United, Zlatan's career trajectory has been nothing short of meteoric.
Read More: Lionel Messi Net Worth 2023: What Is The Soccer Star Worth?
Achievements And Accolades
STOCKHOLM, SWEDEN – MARCH 24: Zlatan Ibrahimovic of Sweden looks on during the UEFA EURO 2024 qualifying round group F match between Sweden and Belgium at Friends Arena on March 24, 2023 in Stockholm, Sweden. (Photo by Linnea Rheborg/Getty Images)
Zlatan's prowess on the field is evident from his numerous accolades. He has played for top-tier clubs like Internazionale, Paris Saint-Germain, and A.C. Milan. His leadership qualities shone when he captained the Swedish national team, even though they missed out on the 2014 FIFA World Cup.
His contribution to soccer isn't just limited to Europe. In 2018, he ventured to the American shores, joining L.A. Galaxy, only to return to Milan in 2020. With over 100 appearances for the Swedish national team and a record 62 goals, Zlatan's legacy is firmly cemented.
Read More: Cristiano Ronaldo Net Worth 2023: What Is The Soccer Star Worth?
Beyond The Soccer Field
TOPSHOT – Sweden's biggest football star, Los Angeles Galaxy's forward Zlatan Ibrahimovic poses next to the 2,7 m bronze statue of him, after the unveiling ceremony on October 8, 2019 near the stadium where he made his professional debut in his hometown of Malmo in southern Sweden. (Photo by JOHAN NILSSON/TT News Agency/AFP via Getty Images)
Zlatan's influence extends beyond the soccer pitch. In 2019, a statue in his honor was unveiled outside Malmö's Stadion, standing tall at 8 feet 9 inches and weighing almost 1,100 pounds. His life and journey were also captured in the sports documentary Becoming Zlatan, released in 2016.
His personal life is equally intriguing. Fluent in five languages, Zlatan shares his life with long-time partner Helena Seger and their two sons. They currently reside outside Los Angeles, with Zlatan also maintaining a home in Malmö.
Read More: Alexandre Pato Net Worth 2023: What Is The Soccer Legend Worth?
The Financial Aspect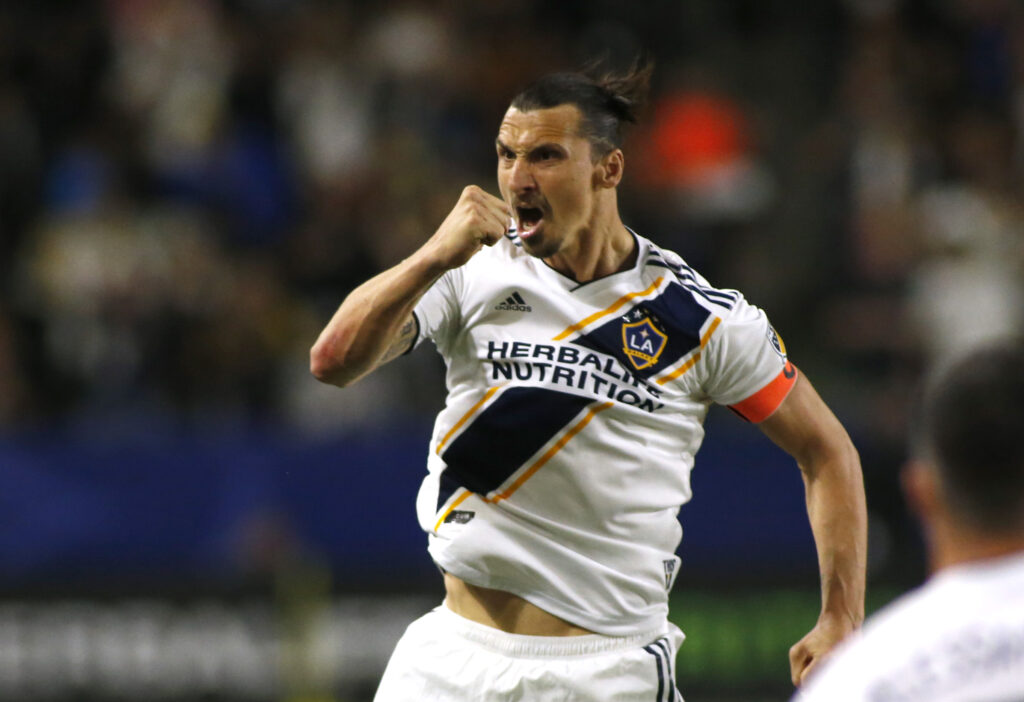 CARSON, CALIFORNIA – MARCH 31: Zlatan Ibrahimovic #9 of Los Angeles Galaxy celebrates a goal during the second half against the Portland Timbers at Dignity Health Sports Park on March 31, 2019 in Carson, California. (Photo by Katharine Lotze/Getty Images)
Zlatan's net worth is a testament to his dedication and hard work. At the peak of his career with Manchester United, he earned an annual salary of $35 million. Even when he transitioned to L.A. Galaxy, he accepted a $1.4 million salary, showcasing his passion for the game over monetary gains.
His real estate portfolio is equally impressive. Along with his family, he resides in a lavish mansion in Beverly Hills, California, while also owning a property in his hometown, Malmö.
Read More: David Beckham Net Worth 2023: What Is The Soccer Legend Worth?
Conclusion
Zlatan Ibrahimovic's net worth in 2023 is not just a reflection of his soccer skills but also his resilience, leadership, and passion for the game. As one of the most decorated active footballers globally, his story serves as an inspiration for aspiring athletes and fans alike.