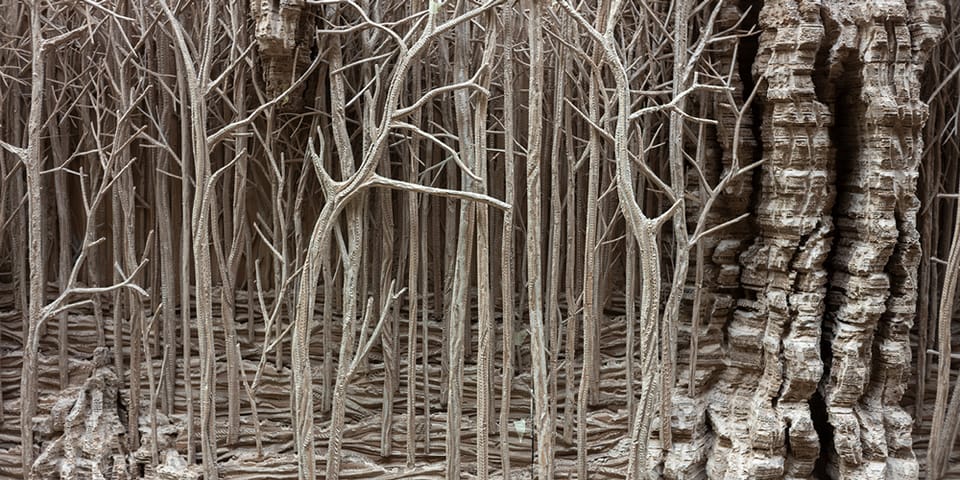 Invited by Ruinart as its "Carte Blanche" artist for the year, Eva Jospin has dedicated a series of artworks and installations to the Maison's 55-square-meter booth at Art Basel Hong Kong.
Best known for her large-scale sculptures, the contemporary French artist has interpreted Ruinart's history through the centerpiece Promenades en Champagne — an installation that encourages visitors to traverse the Maison's terroir through the ages. Made of recycled cardboard – Jospin's go-to medium – the piece presents a wild landscape that also captures the history and metamorphoses of the champagne region.
In an official press release, the artist explains that "My proposal takes the form of a stroll through a sculptural setting that evokes this terroir and the gestures that keep it alive. I invite the public to inhabit this world, made up of mysterious chalk quarries and luminous vineyards, and to cross the different layers of time."
In addition, the artist has crafted special-edition cases around a Jeroboam of Blanc de Blancs, with only 25 signed and numbered pieces available at Art Basel Hong Kong. The cases open into a miniature scene of a crayére as a metaphor for the champagne's fermentation process.
Take a closer look at Jospin's art-making process, the final artworks, as well as Ruinart's booth in the gallery above.
Elsewhere in art, Gucci takes its monogram trunks to London's Brick Lane for the Valigeria campaign.
DISCLAIMER: We discourage irresponsible and/or underage drinking. Drink responsibly and legally.