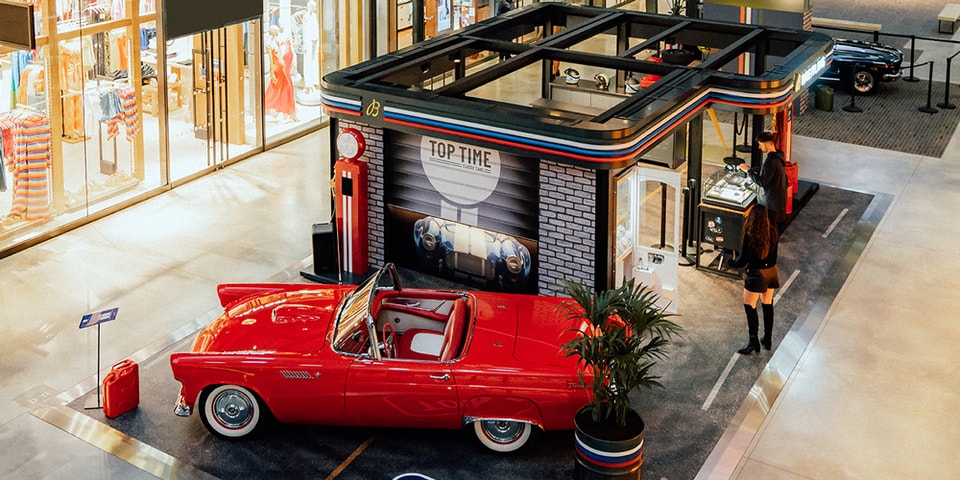 To celebrate the launch of Breitling's Top Time Classic Cars Collection, the luxury watch brand has set up an exclusive pop-up in London's new bustling retail development, Battersea Power Station.
Designed to immerse visitors into a world of vintage motoring, the Top Time Garage pop-up comprises a lounge area, photo booth, arcade games, and a retro-style claw machine to accompany Breitling's showcase of timepieces. In addition, some of the cars that inspired the collection are also on display, which include a 1955 Ford Thunderbird, a 1963 Chevrolet Corvette, and a 1968 Ford Mustang.
"The opportunity to showcase the brand and timepieces to our clients in this unique way creates a memorable luxury retail experience, which is very important to us. This showcase will also include the unveiling of the first Breitling Café in the UK, situated within the showroom this is a new elevation in client hospitality" says Craig Bolton, president of Watches of Switzerland UK & Europe.
From May 27 til June 4, the pop-up is available for public visitors on the ground floor of Battersea Power Station.
Battersea Power Station
Circus Rd W, Nine Elms,
London, SW11 8AL
United Kingdom
In other watch news, check out G-SHOCK's retro-futuristic Forgotten Future collection.