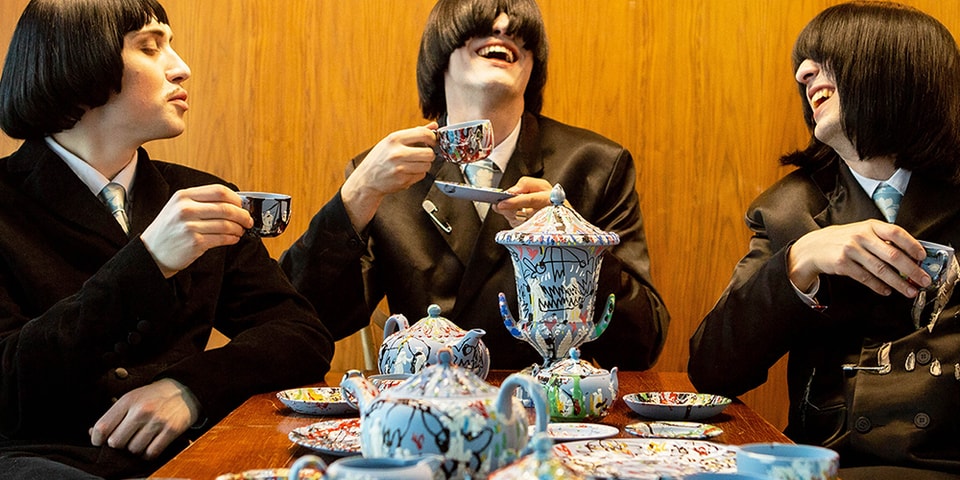 Josiah Wedgwood developed jasperware in 1770, and the eponymous company, Wedgwood, has been making its sought-after and delicate creations ever since. The British manufacturer is renowned around the world, often heading to auctions and fetching thousands on the secondary market, typically because of a piece's provenance. Now, Charles Jeffrey LOVERBOY hopes to join the company in defining its legacy with a new collaboration, taking traditions and turning them on their spout.
Charles Jeffrey LOVERBOY presented its Wedgwood collaboration during its recent Spring/Summer 2024 runway show during Milan Fashion Week, utilizing pieces of jasperware to decorate regal gowns, suits of armor, and monstrous gloves. However, the official collaboration is far from mythical, delivering homeware necessities each informed and re-imagined with Jeffrey's signature penmanship and bold application of color.
A teapot, teacup and saucer, sugar bowl, milk jug, and plate all appear in Wedgwood's classic shade of light blue, before being splattered in an abstract hand-glazed paint finish. Wedgwood's traditional floral appliqués appear beneath in white, but are warped and spill into the paint and scribbles, further enhancing Jeffrey's subversion.
Speaking on the project, the designer said:
"Collaborating with Wedgwood has been an incredible journey which allowed us to fuse music, art and craftsmanship into a bold and transformative experience. We not only had the opportunity to reimagine Wedgwood's iconic jasperware but also to infuse it with our own distinctive creative voice. Upcycling pre-loved Wedgwood jasperware became a medium for us to breathe new life into these cherished pieces, adding a unique touch and vibrant, expressive energy. Wedgwood's trust and support in letting us unleash our creativity without limitations is something we deeply appreciate. This collaboration embodies the spirit of innovation and mutual collaboration, where boundaries are shattered and new narratives are crafted. We are grateful to Wedgwood for providing us with this platform to push the boundaries of art, music and design and create something truly extraordinary."

Wedgwood's Creative Director, Alice Bastin, added: "Throughout its illustrious history Wedgwood has opened its doors to many revered artists. Art and creativity have always been at the core. Our new vision is to reinstate Wedgwood as a creative hub for artists, welcoming mavericks and thought leaders to express themselves freely through Wedgwood. It simply had to be Charles to start this new movement. Charles Jeffrey LOVERBOY reflects a freedom of expression, optimism and authenticity in his multidisciplinary approach which juxtaposes perfectly with Wedgwood's iconic jasperware."
Indeed, music was also involved. Here, the multihypenate designer teamed up with Robert Fox and Tom Furse to create a mod-inspired music video that comments on factory workers and his Wedgwood collaboration.
[embedded content]
Take a look at the collection and music video above, and shop the collaboration via Wedgwood's website where you can find the core products alongside many variations and original artworks.
In other news, JW Anderson has dropped its FW23 Frog Clutch Bag.