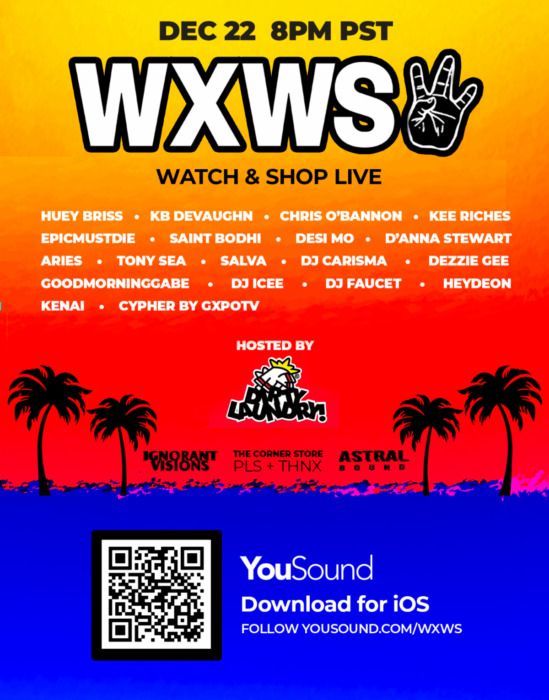 West by Westsouth (WXWS) is an Underground Festival founded by Dezzie Gee, (DJ for Boogie, Jasiah & more), DJ Faucet (DJ), & KB DeVaughn (Recording Artist). Originally set to debut in March 2020, the Covid-19 pandemic forced the trio to put the festival on hold indefinitely. Fast forward to December, they have teamed up with a new platform called YouSound to host the first-ever free livestream of the festival. WXWS will feature live performances from Los Angeles' next wave of artists including Huey Briss, KB DeVaughn, Chris O'Bannon, Kee Riches, HeyDeon, & more, as well as DJ sets by tastemakers DJ Carisma, DJ Salva, & Gabe C.
The festival will be streaming live on Tuesday, December 22, 2020 at 8 p.m. PST on YouSound. The app can be downloaded for free HERE.
WXSW full line-up below:
Performances by:
Huey BrissKB DeVaughnChris O'BannonKee RichesKenaiDesi MoEpicMustDieD'Anna StewartSaint BodhiAriesTony SeaHeyDeon
DJ Sets by:
DJ SalvaDezzie GeeDJ CarismaGabe C.DJ FaucetDJ ICEE
Cypher by:GXPOTV
Hosted by:
Dirty LaundryIgnorant VisionsThe Corner StorePLS + THNXAstral Bound
YouSound is a music and shopping experience powered by verified artists & brands. Live Video. No Ads. No Subscriptions.
YouSound is the perfect place for artists, brands and listeners to interact, Real people and a real community. No publics stats. Privacy.
All verified artists and brands keep 90% of all sales. Everyone can earn money by sharing content, music, and products.
All verified artists and brands can broadcast live, pay per view, sell products and offer downloads in real time while people watch. Anyone can repost your broadcast and share to their entire feed with 1-click.
YouSound makes it easy for verified artists, DJs, producers, and brands to collaborate on albums, remixes, mixes, and products. You can add percentage splits and recoup costs that are automatically calculated and paid on each order. Simply accept or deny collaborations from mutual followers via your DM.
Download the App for FREE or log onto www.yousound.com and sign-up for your account now, share it on your other platforms, and start to build your profile.