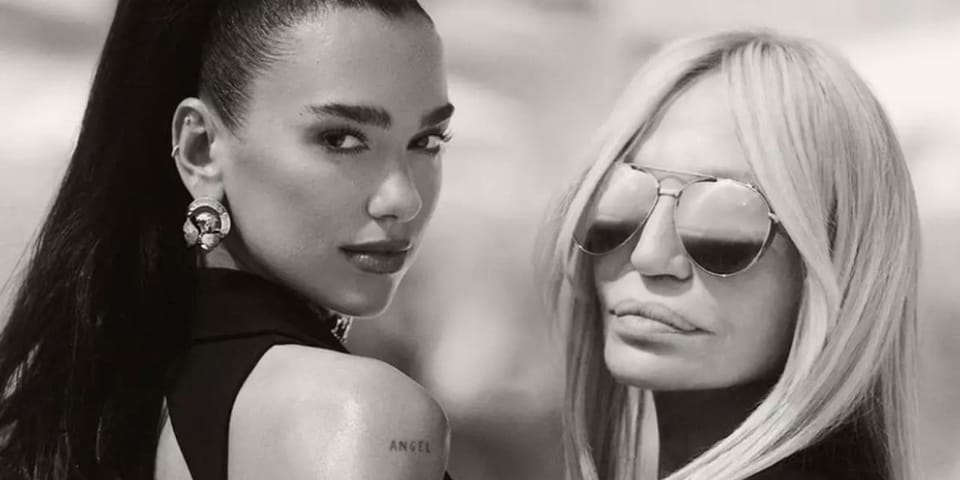 After co-chairing this year's Met Gala, Dua Lipa's hand in fashion is only continuing to grow stronger. In her latest style pursuit, the Grammy-winning artist has partnered with Donatella Versace to co-design a see-now, buy-now women's collection for Versace, titled "La Vacanza."
The collaborative line will meet the world in Cannes, during a fashion show scheduled for May 23. While not on the official Cannes Film Festival calendar, which runs from May 16 to 27, the runway will occur during the same period, at a location that has not been announced.
"I am absolutely thrilled to have co-designed the women's 'La Vacanza' collection for Versace with Donatella," said Lipa, who has a longstanding relationship with the designer. Lipa first met Versace in London in 2017, and she later starred in the Italian house's Fall 2021 campaign. That same year, she opened and closed Versace's Spring 2022 show during Milan Fashion Week, in two different looks. Most recently, she sat front row at Versace's Fall 2023 show, which took place at the Pacific Design Center in West Hollywood in March.
"[Donatella] and I have formed such a strong bond over the years, and I'm so grateful for the support I've received from her and the whole team since the very beginning of my career," she added. "For her to give me the honor of co-designing this collection and letting all my summer inspirations go wild has been a dream. I am so very proud of this collection and cannot wait to debut it in Cannes."
"I have always been inspired by a collaborative design process," said Versace, who has previously tapped designers including Christopher Kane and Kim Jones for joint collections. "Working with Dua on this collection has been very exciting and I love the dynamic between us. Dua is strong, fearless, and free and her creative vision is exceptional. Summer is a magical time. We will capture this feeling and the colors of that time of the year with a truly special and intimate fashion show in Cannes."
The "La Vacanza" collection will be available in stores and on the brand's website immediately following the show.
In more fashion news, Calvin Klein launched a limited-edition capsule collection with Jennie of BLACKPINK.