In the fast-paced world of music, few artists have the ability to make a lasting impression, but FKG TAN is undoubtedly one of them. After recently charting on iTunes, Apple Music, and Shazam with his single "GOD DID", FKG TAN is back with another remarkable creation that is set to take the music scene by storm. Brace yourself for a mesmerizing journey as he unveils "PRECIOUS TIME", a self-produced gem releasing on July 28TH that showcases his unique blend of captivating beats and introspective lyricism, over a nostalgic guitar-based melody.
"PRECIOUS TIME" is a testament to FKG TAN's growth as an artist and his unwavering commitment to his craft. With introspective storytelling, FKG TAN urges listeners to reflect on the importance of not wasting time on the wrong people and situations. The song serves as a powerful reminder to allow others the space to make their own choices, while also protecting ourselves from those who do not value our time and boundaries. Over an infectious beat, FKG TAN invites us to embrace self-worth and prioritize the experiences that truly enrich our lives.
As an artist who wears multiple hats, FKG TAN's ability to self-produce "PRECIOUS TIME" showcases his versatility and creative vision. From conceptualization to recording, mixing, and mastering, every aspect of the track bears his artistic fingerprint. The result? An authentic and cohesive musical piece that represents his artistic evolution.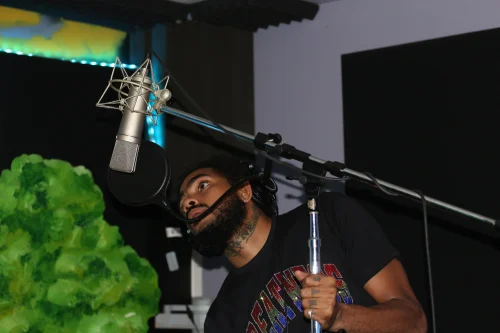 Alongside the release of "PRECIOUS TIME", FKG TAN is set to launch an exclusive merchandise collection that complements the essence of the music. Prepare to be captivated by limited edition items, including an olive green and black corduroy hat adorned with detailed embroidery on the front, left and back. Additionally, a namesake tan-colored t-shirt featuring embroidery on the front and sides, along with a striking printed design on the back, will be available. These unique pieces show FKG TAN's commitment to providing his fans with high-quality merch that aligns with his artistic vision and music.
FKG TAN's ability to consistently deliver captivating music that resonates with listeners has cemented his position as an artist to watch, capturing the attention of music enthusiasts and industry professionals alike having already worked with Grammy nominated producer from the UK, Wizzy Wow (Wretch 32, Big Sean, 2 Chainz, Chip, Tinie Tempah) and Joy Joseph whose had the pleasure of touring with the likes of Mr. Hudson, Kanye West amongst other industry giants.
As you eagerly anticipate the release of "PRECIOUS TIME", we invite you to dive into a curated playlist of FKG TAN's previously released songs. This playlist serves as a perfect gateway to his musical universe, preparing both current and future listeners for the release that lies ahead.
This is: FKG TAN | Playlist
Pre-Save "PRECIOUS TIME":
https://hypeddit.com/fkgtan/precioustime
Follow FKG TAN:
Instagram: @FKGTAN
YouTube: FKG TAN | YouTube
© 2023, AMMPRO. All rights reserved.