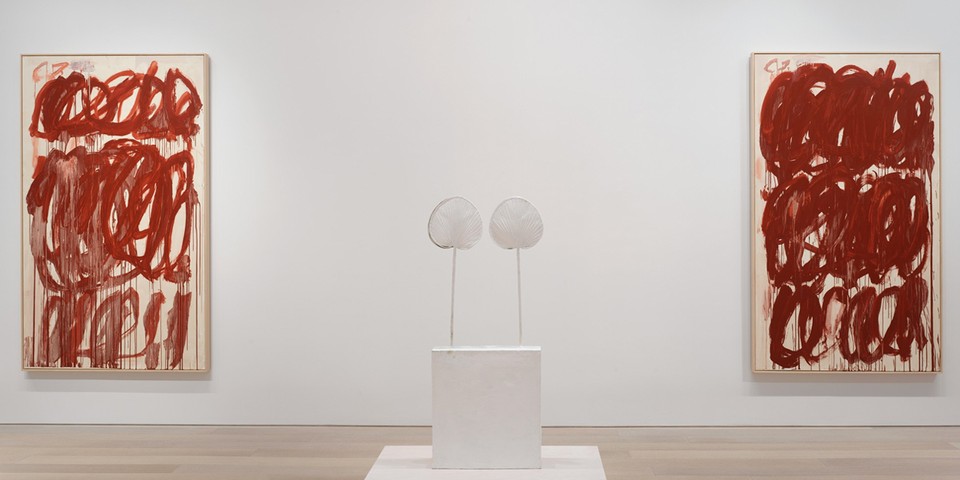 The Northeast is currently playing host to two major exhibitions on legendary abstract artist, Cy Twombly. The first, held at the Museum of Fine Arts, Boston (MFA), unearths Twombly's lifelong fascination with history and mythology — while the latter show spotlights works created in the last decade of the artist's life. Held at Gagosian's 980 Madison Avenue location in New York, Cy Twombly is mapped across two floors and presents a series of large-scale paintings, such as those made in the early 2000s, following his return to painting.
Highlights of the exhibition include a verdant six-panel set of paintings, Untitled I–VI (Green Painting) (2002–03), which only went on view once for the public during the Metropolitan Museum of Art's 2016 exhibition Unfinished: Thoughts Made Visible. Also made during this period are large-scale canvases featuring large gestural loops of paint and subtle text that evoke the spirit of Bacchanalia, while imbuing Twombly's love of poetry, history and mythology.
Complementing the paintings are a series of abstract paper-based studies that further blur the lines between the act of writing and that of painting and drawing. Similar to the MCA Boston show, Gagosian will also present sculptures made from found objects and materials in Twombly's studio, such as plaster, wood and scraps, which the artist assembled to allude to the forms of ancient Egypt, Rome, and Greece.
Cy Twombly is on view at Gagosian New York until March 4, while Making Past Present: Cy Twombly is on view at MCA Boston until May 7.
Elsewhere, Art of the Terraces explores the legacy of Casual Culture on football and fashion.
Gagosian
980 Madison Avenue
New York, ny 10075
Museum of Fine Arts, Boston
465 Huntington Avenue
Boston, Massachusetts 02115