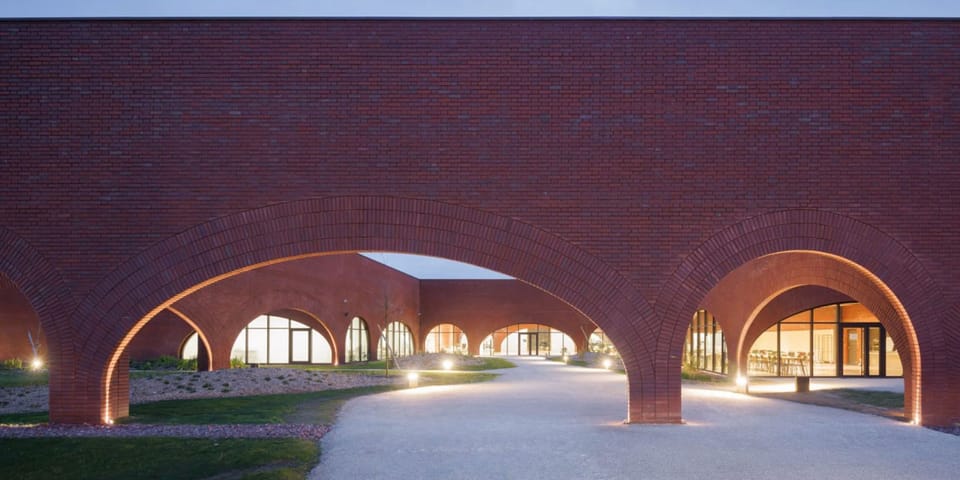 Hermès has taken to Louviers, France for its new brick-clad leather workshop.
Designed by French-Lebanese architect Lina Ghotmeh, the classically designed space gets its striking personality from over 500,000 locally-made bricks. What shines alongside the 6,200-square-meter building's wood-framed brick construction is the inclusion of swooping arches. The arches provide an elevated yet classic design touch, while also bathing the spaces in natural light.
"The design of the project is a tribute to the horse, this extraordinary being," Ghotmeh told Dezeen. "Besides the fact that the brick construction tells of a local material, made from the earth of the place, the natural span of a brick breakthrough is an arch."
The building's square build and arch structures were also designed to reduce the need for artificial heating and light – inviting as many natural sources into the space as possible. As such, the low-carbon space is heated using geothermal energy via 13 proves and solar panels.
The workshop is set to house 260 leatherwork artisans to craft an assortment of leather goods, bags, saddles and bridles.
Take a closer look at Maroquinerie de Louviers in the gallery above.
In other news, Kalbod Design Studio envisions floating healthcare islands in Dubai.