Jamie Foxx was reportedly a "ball of energy" on the set of a new commercial according to his co-star for the piece, Kristen Radford Thom. The commercial is for BetMGM's latest promotional campaign. Thom spoke about the experience of working with Foxx with PEOPLE.
"One of my favorite actors, and he was kind and humble and hilarious — all wrapped up in a ball of energy!" Thom told the outlet. "He came over to our table (we were sitting right behind him while he played piano) and just opened up to us. As private as he is, he was pretty open to our table about his situation without telling us exactly what happened."
Read More: Jamie Foxx Posts Thankful Video Addressing Fans' Support, Rumors & More
Jamie Foxx At The "Creed III" Premiere
The advertisement features Foxx rocking a black suit while playing piano at NoMad Library inside the Park MGM Las Vegas. Foxx filmed the spot back in July. "He was the nicest," Thom said of Foxx. "He was funny. His improv abilities are unmatched. The entire set was laughing at his jokes. He is talented, in the most natural way." The filming of the BetMGM commercial came after Foxx's medical emergency, earlier this year.
Jamie Foxx For BetMGM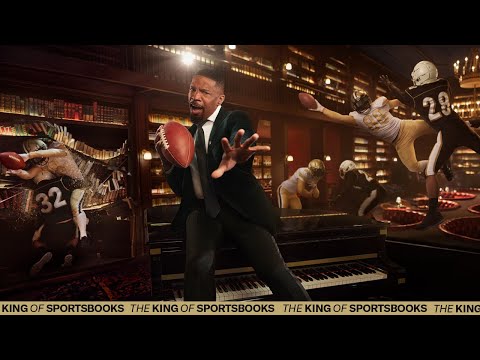 The actor was hospitalized with an undisclosed condition in April and remained under medical care for months before confirming what was ailing him. The lack of information caused rampant speculation about his condition. He finally addressed the situation in a message to fans on Instagram in July. "I went through something that I thought I would never ever go through and I know a lot of people were waiting or wanting to hear updates but to be honest with you I just didn't want you to see me like that man," he said at the time. "I want you to see me laughing, having a good time, partying, cracking a joke, doing a movie, television show, I didn't want you to see me with tubes running out of me and trying to figure out if I was going to make it through."
Read More: Jamie Foxx Shuts Down "Clone" Conspiracy Theory With Jokes
[Via]